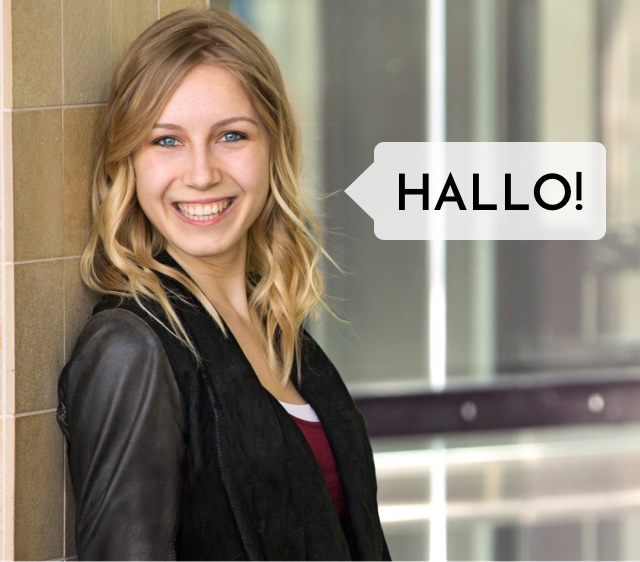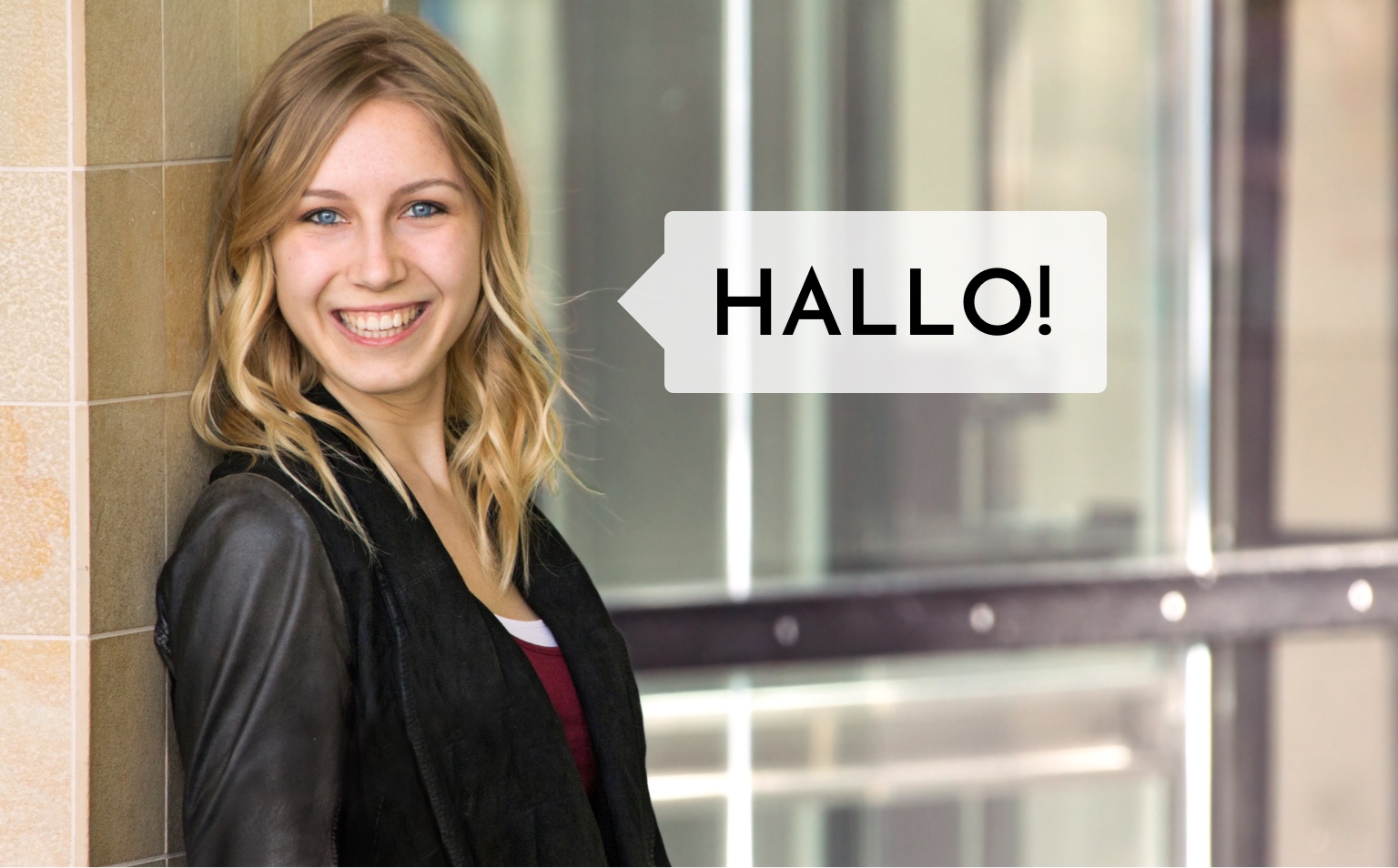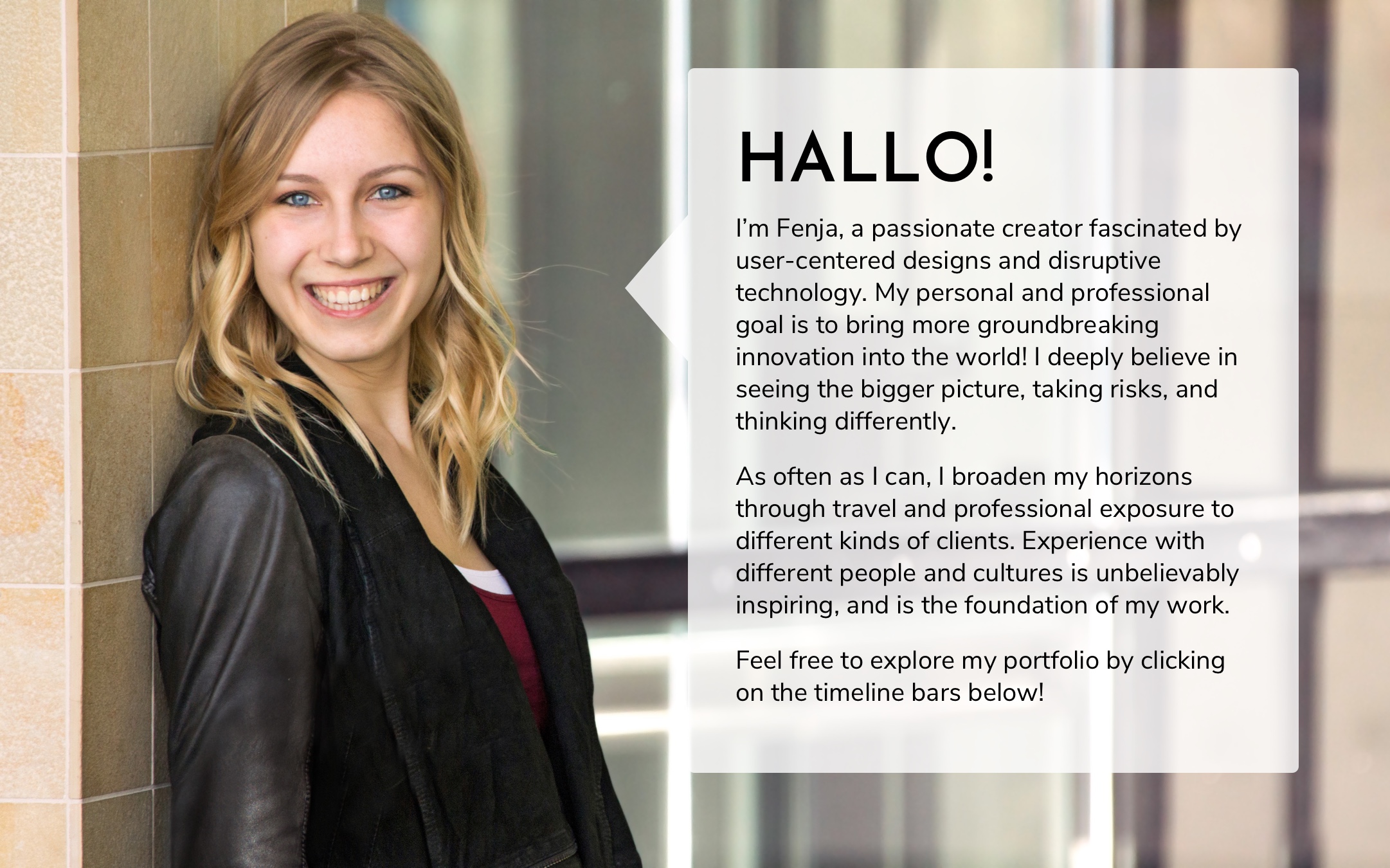 I'm Fenja, a passionate creator fascinated by user-centered designs and disruptive technology. My personal and professional goal is to bring more groundbreaking innovation into the world! I deeply believe in seeing the bigger picture, taking risks, and thinking differently.

As often as I can, I broaden my horizons through travel and professional exposure to different kinds of clients. Experience with different people and cultures is unbelievably inspiring, and is the foundation of my work.

Feel free to explore my portfolio by clicking on the timeline bars below!
2013
2014
2015
2016
2017
2018
Travel
Au-pair & Travel &nbsp
BA Integrated Media & Comm.
BA Integrated Media & Communication &nbsp
Freelancer
Freelancer &nbsp
Click on the timeline bars to explore my portfolio!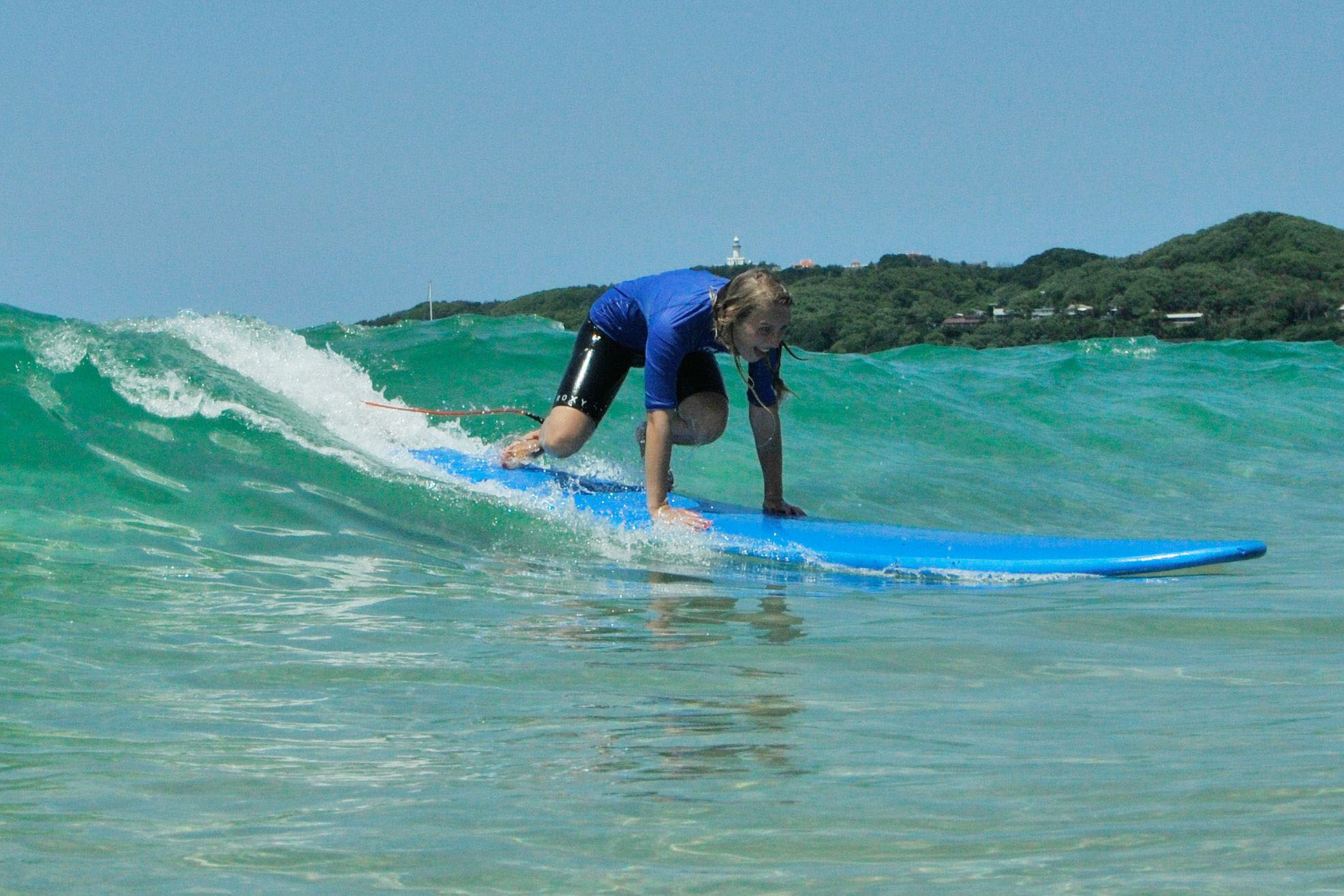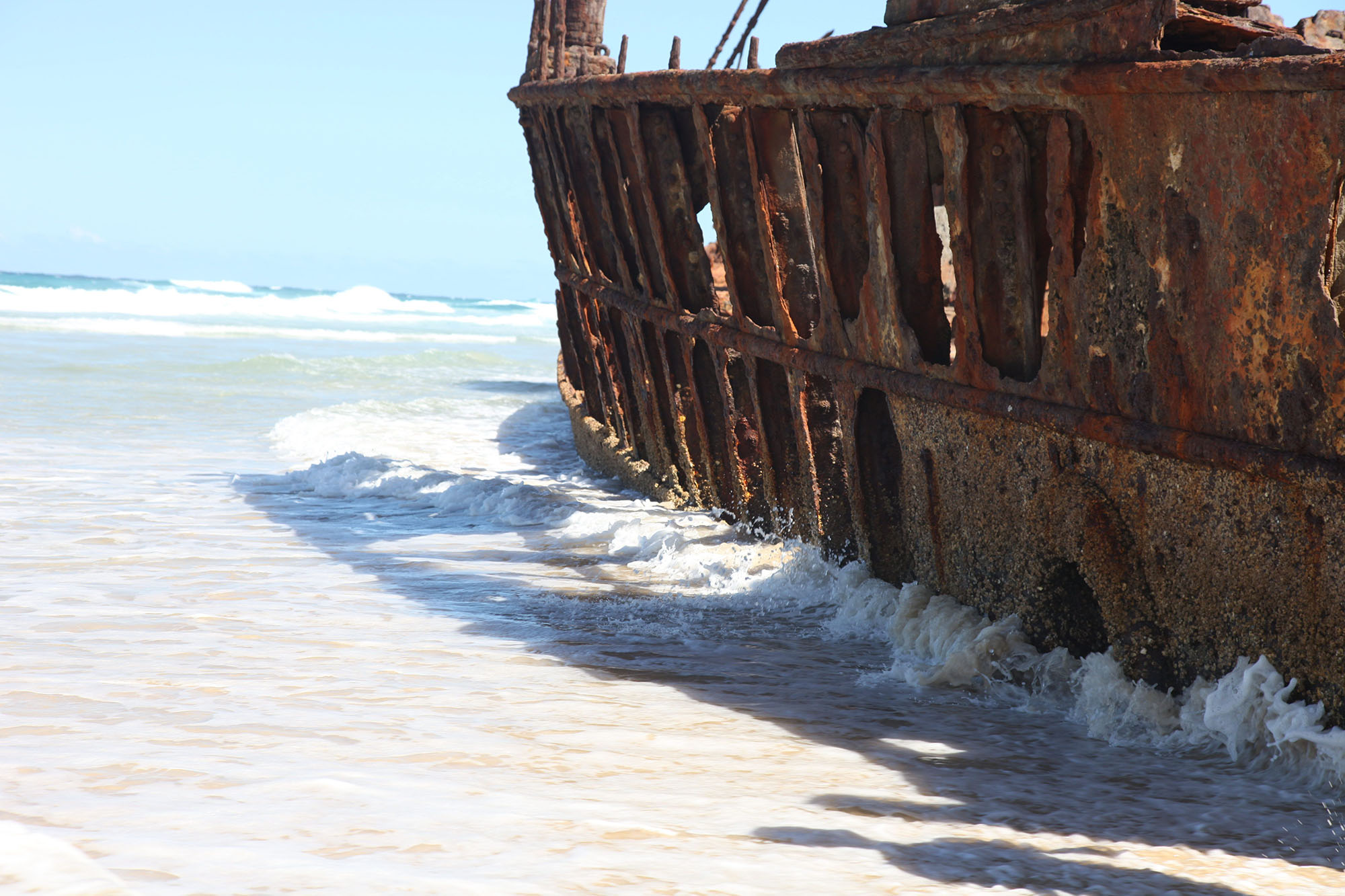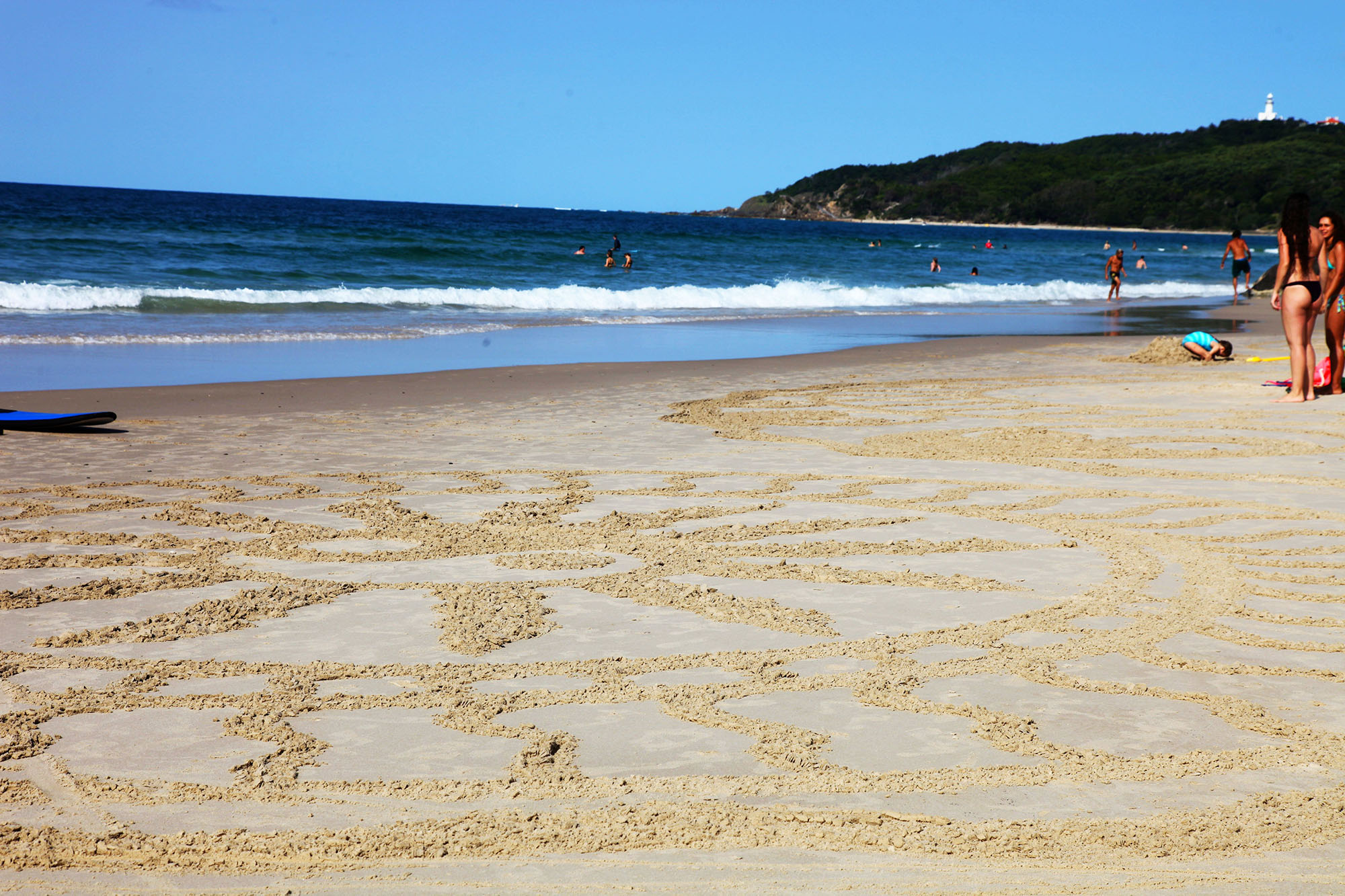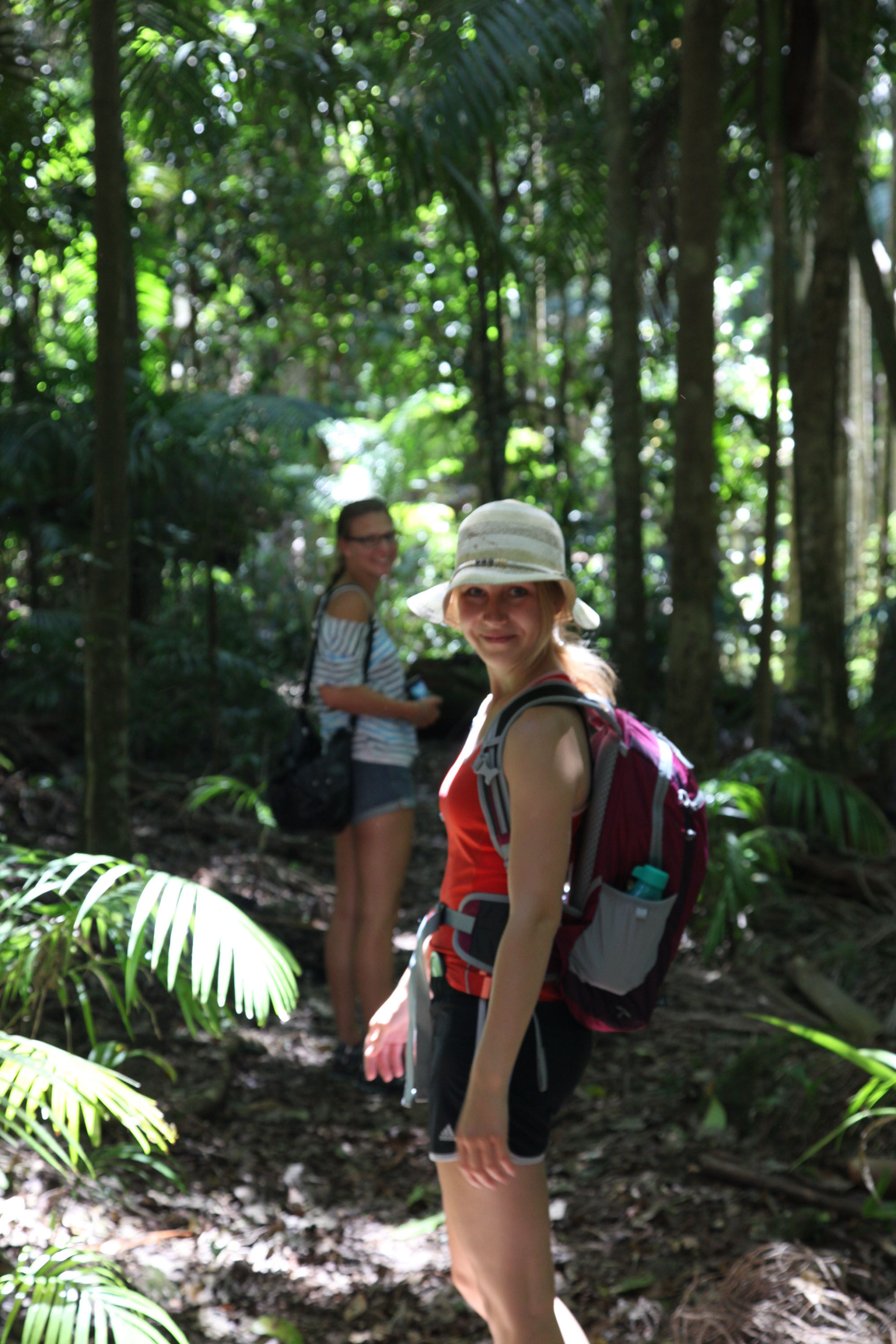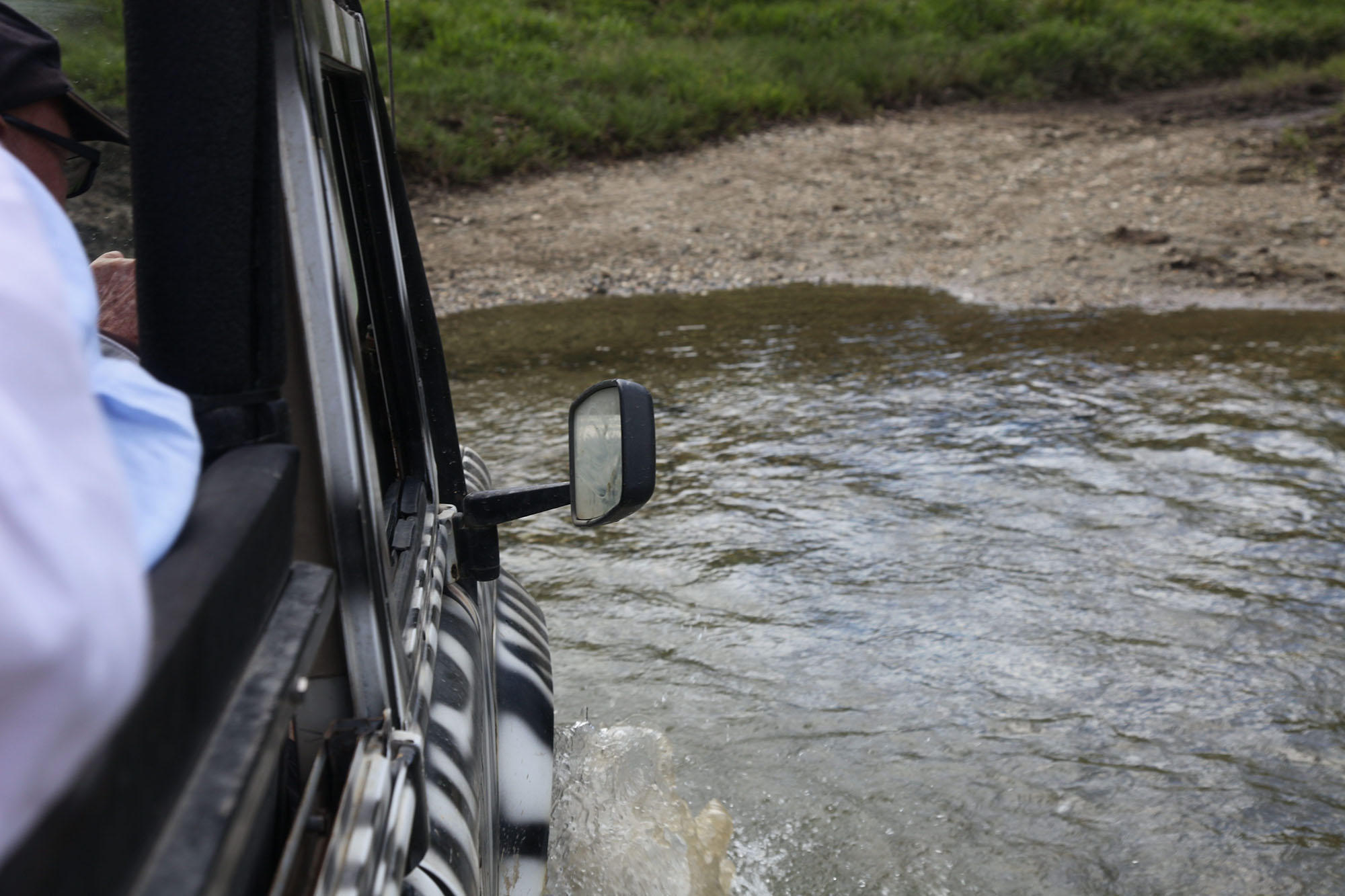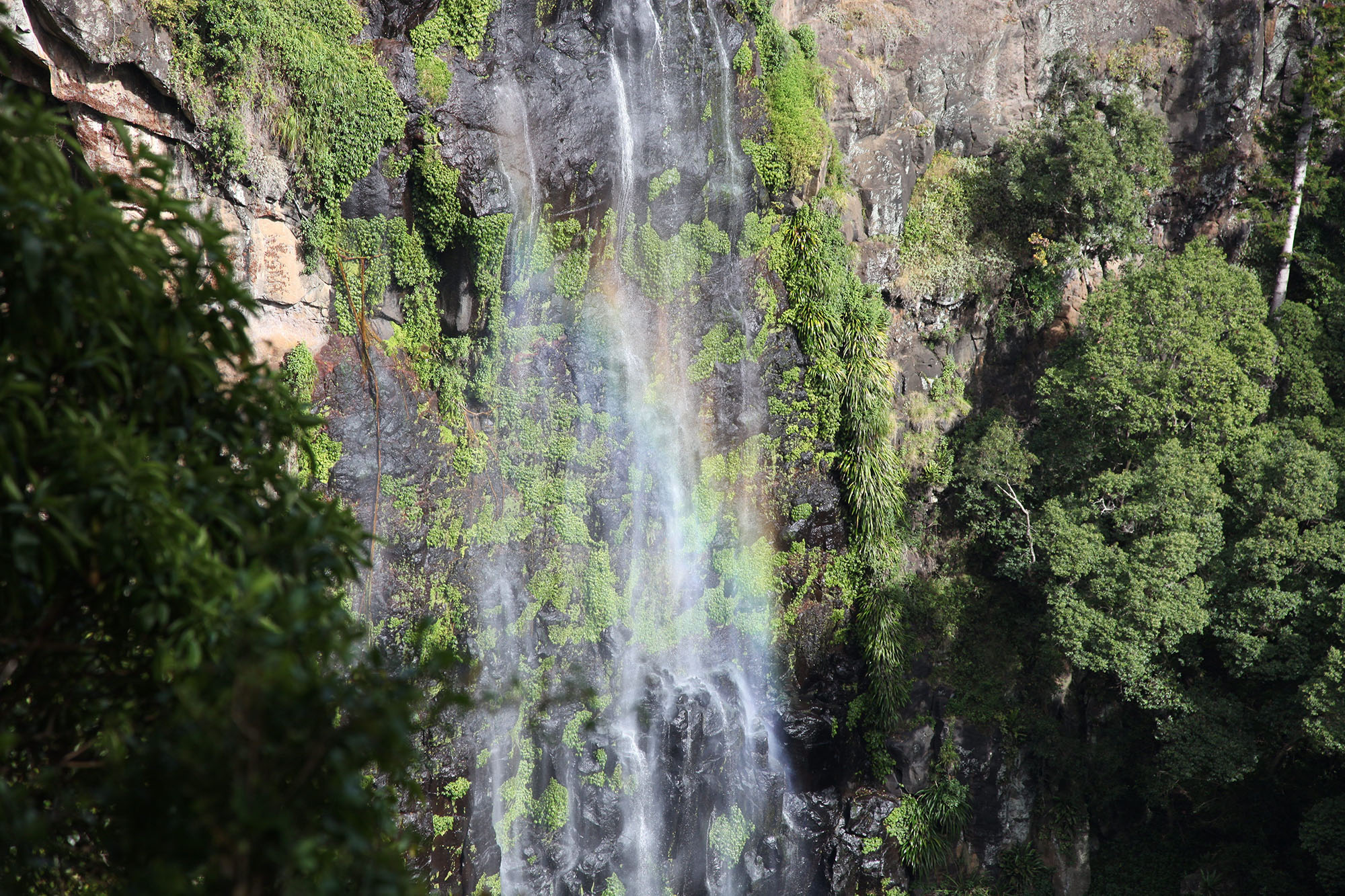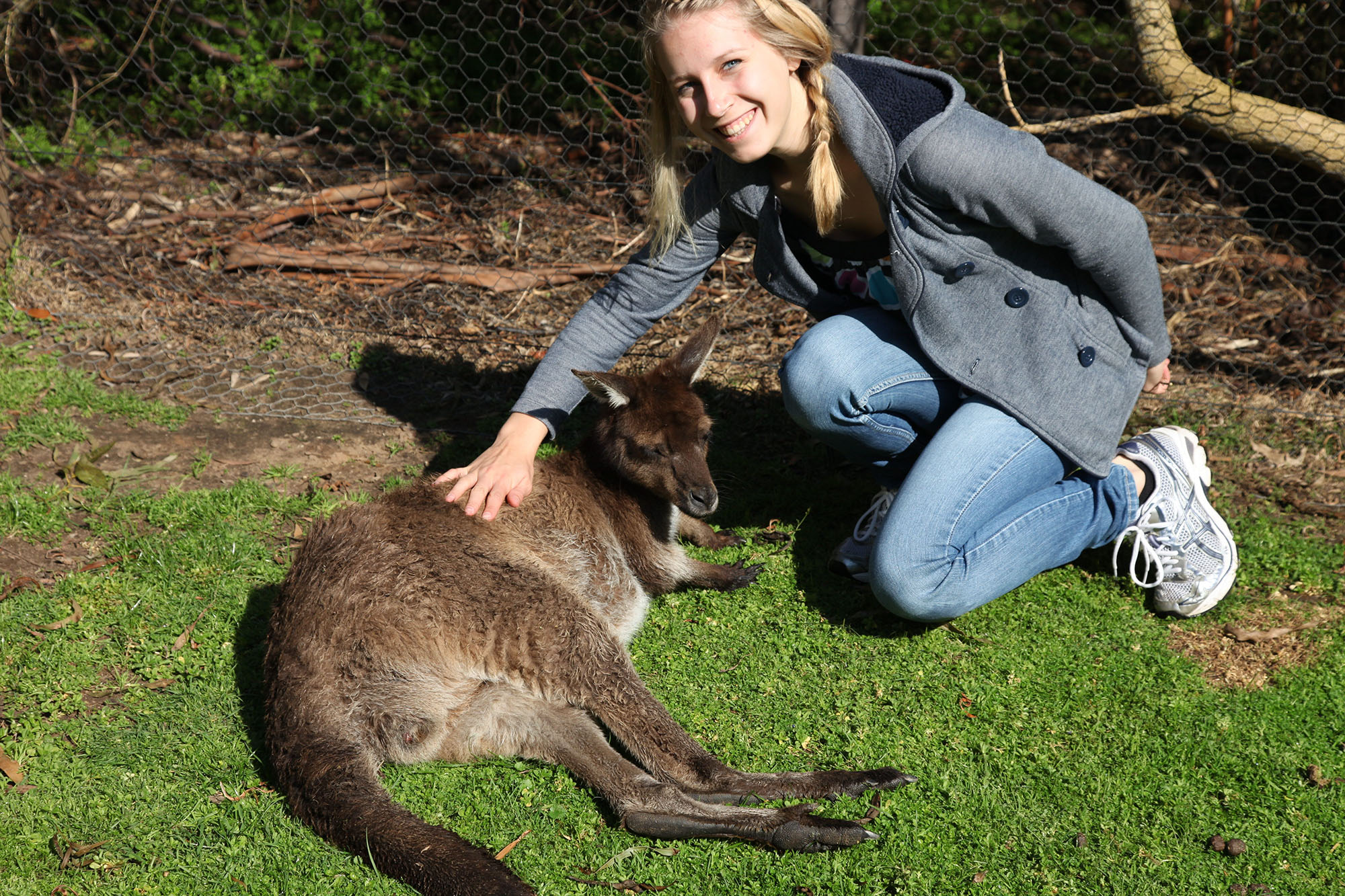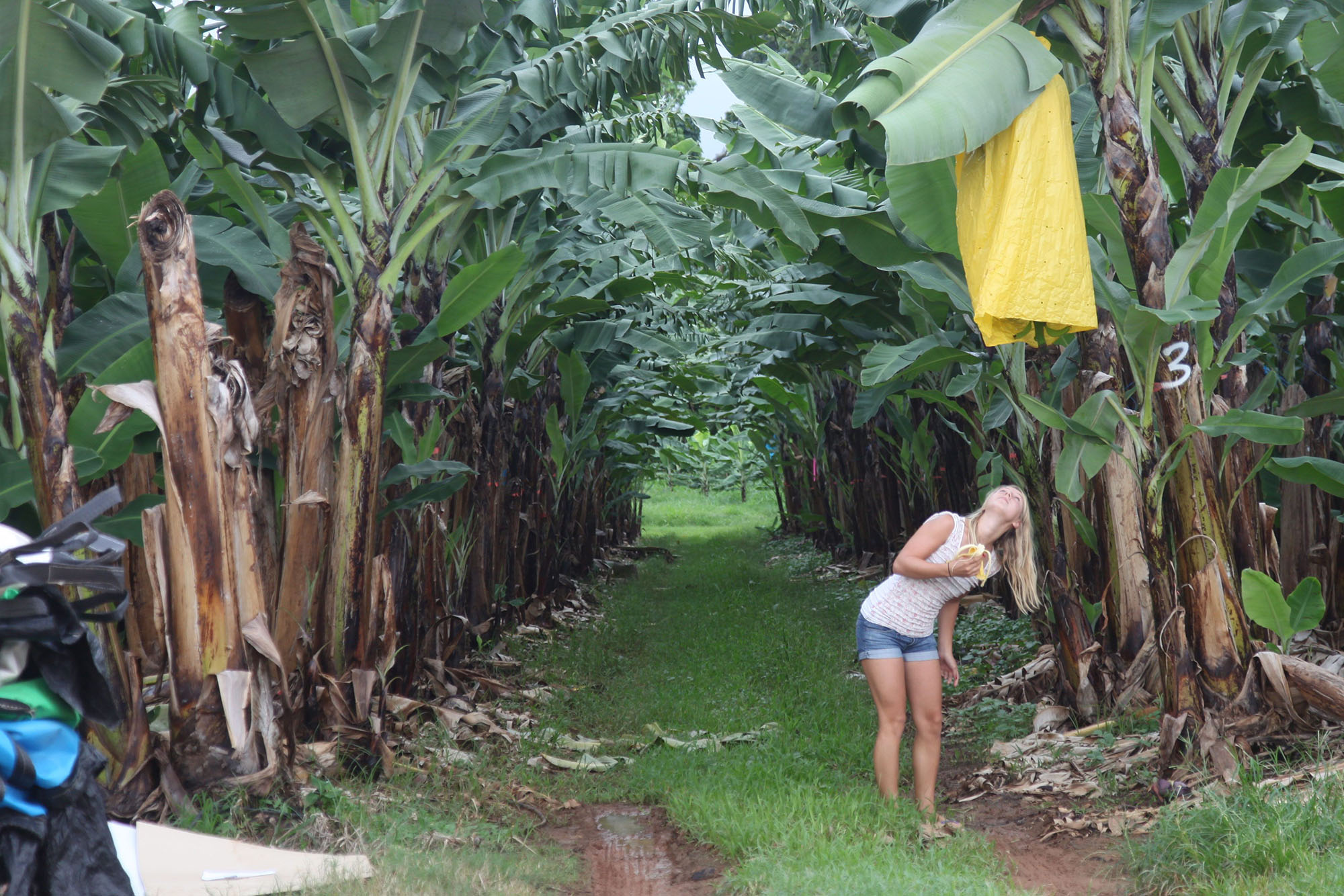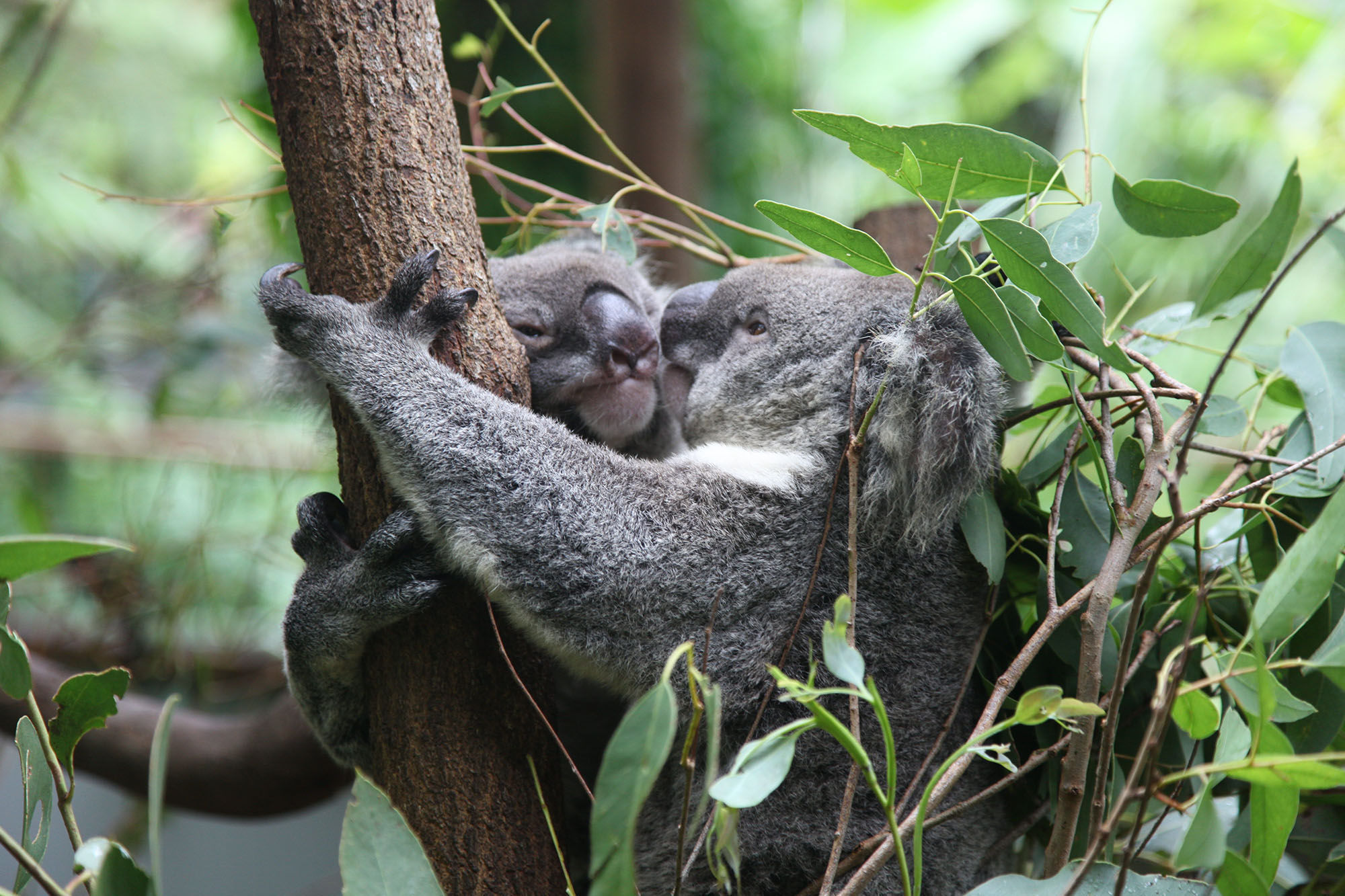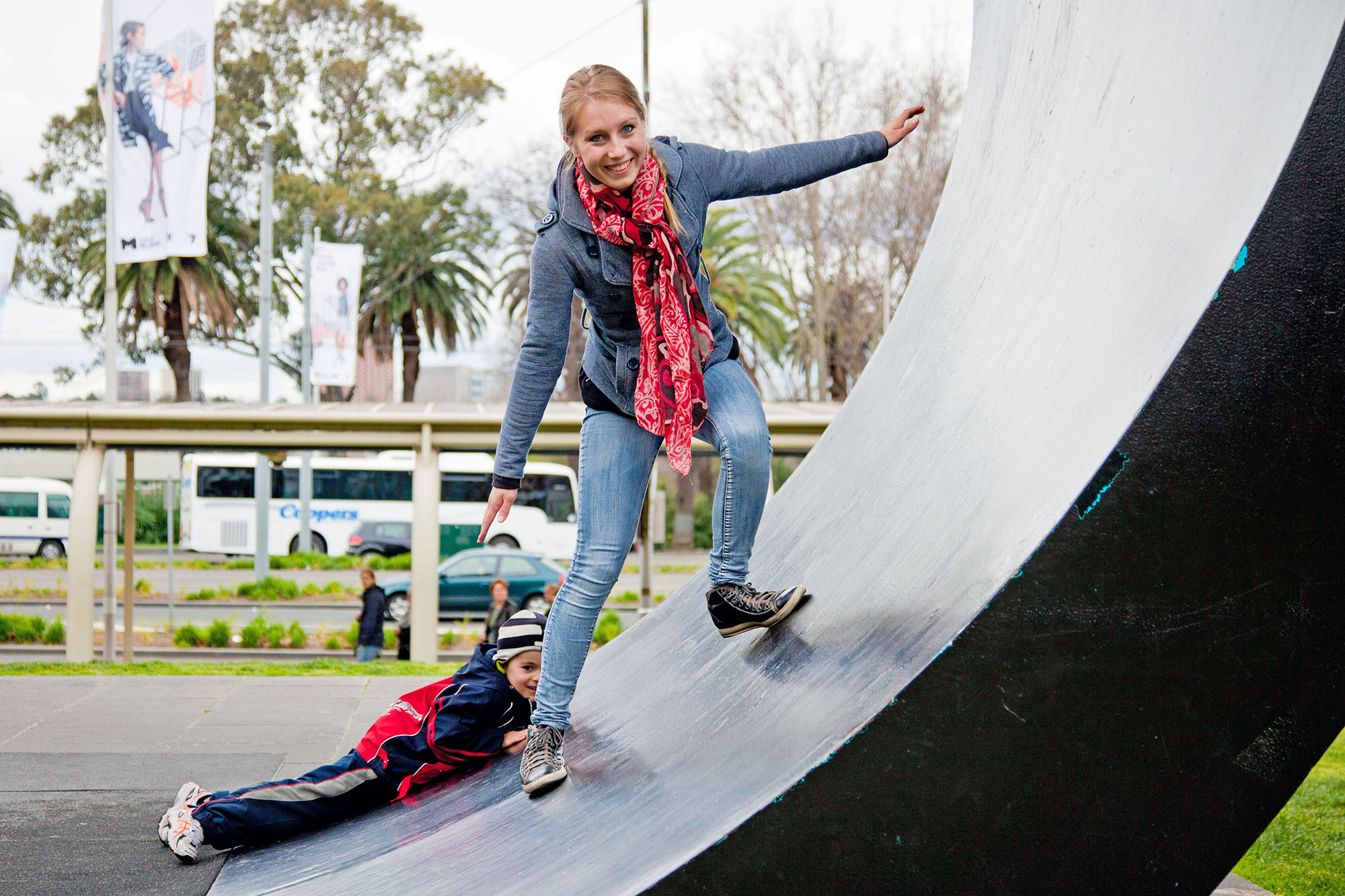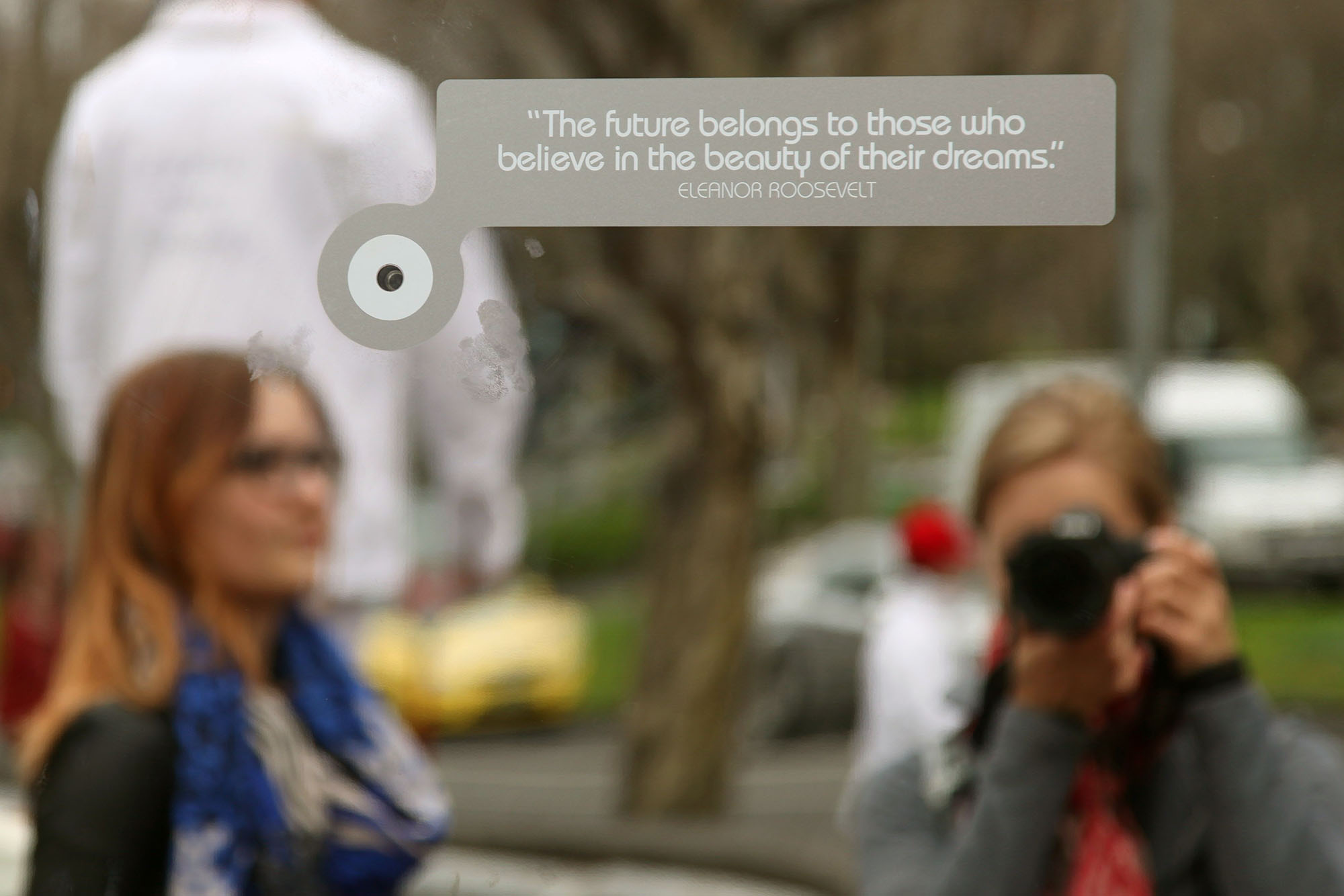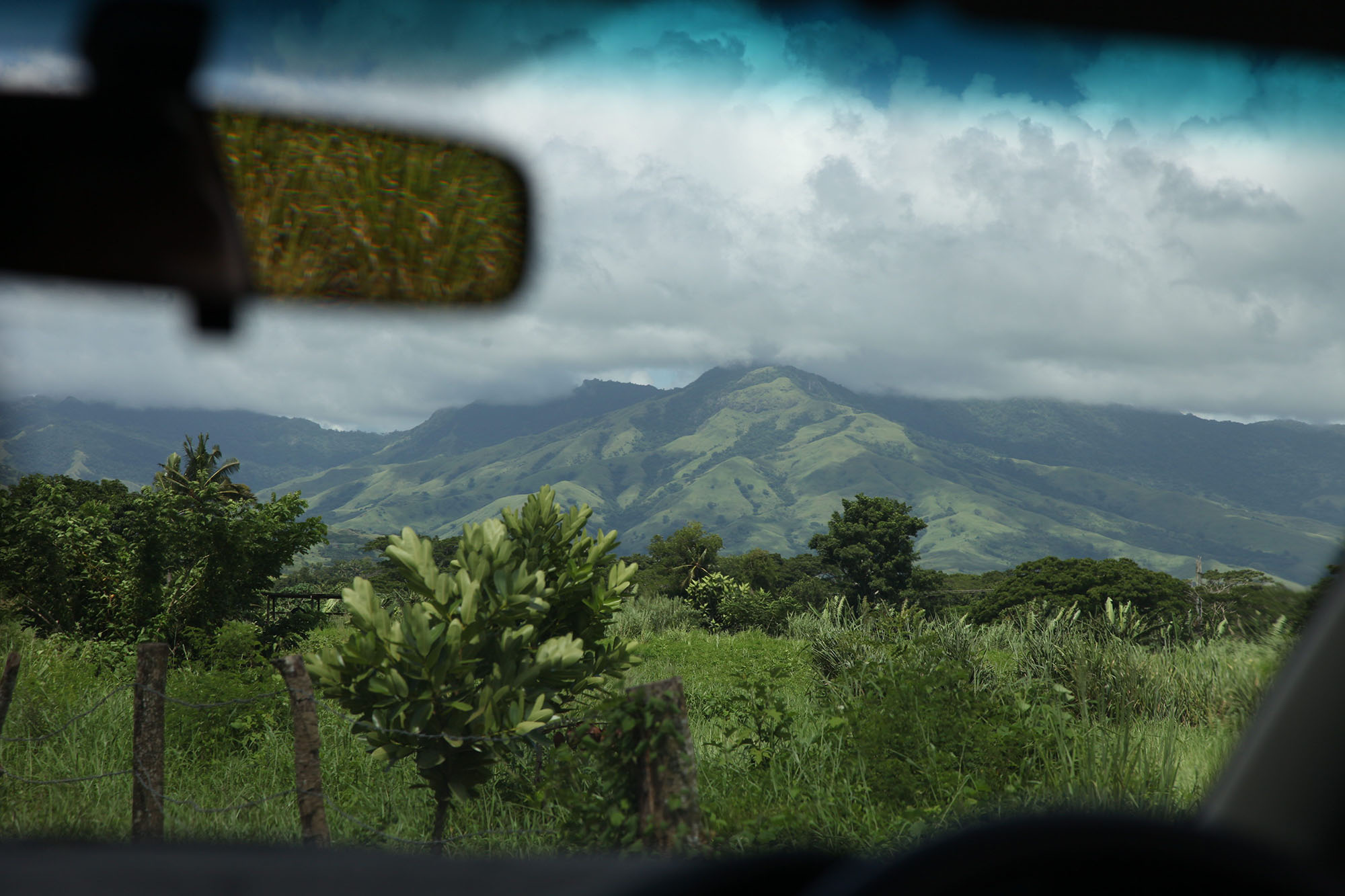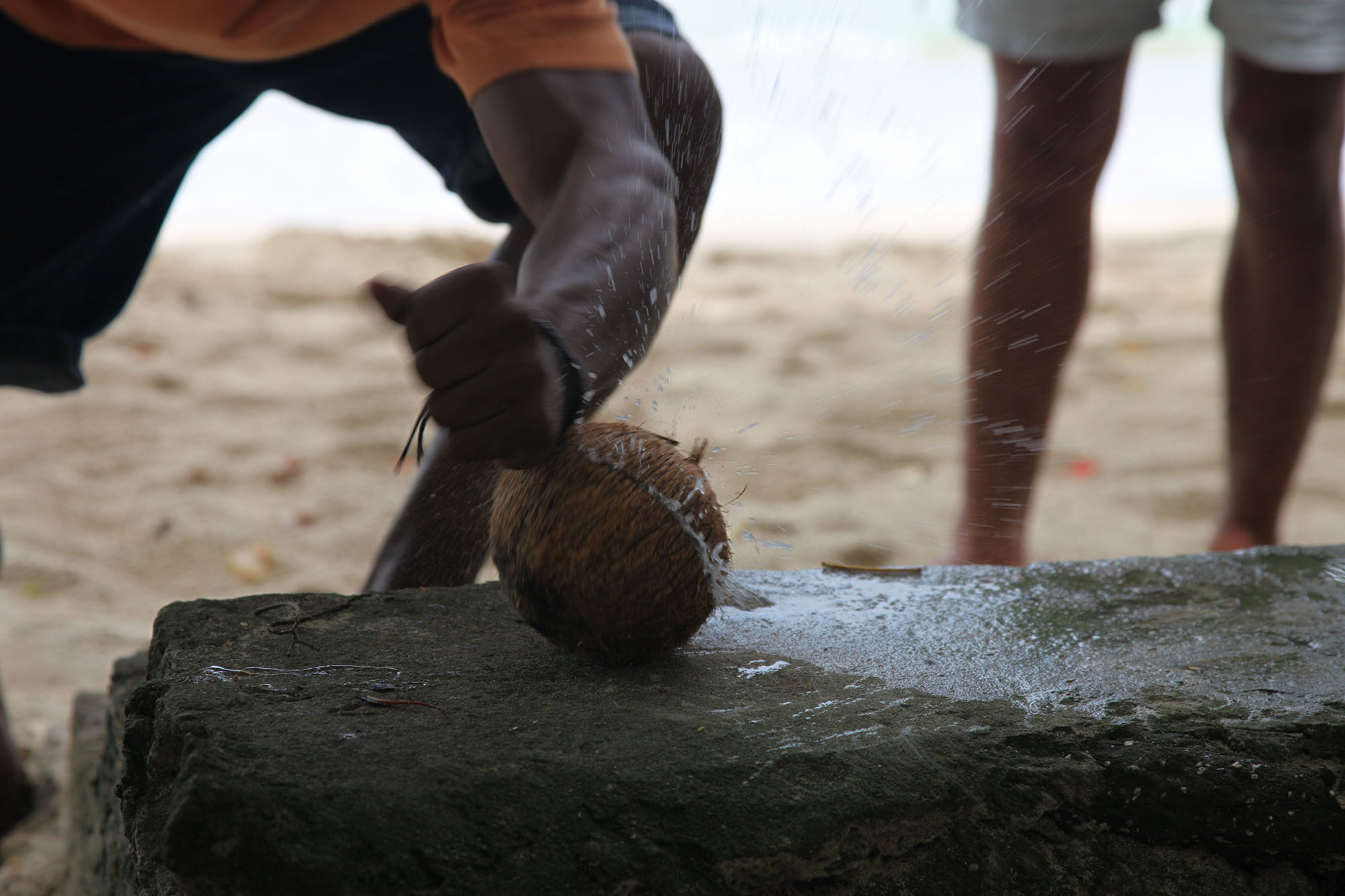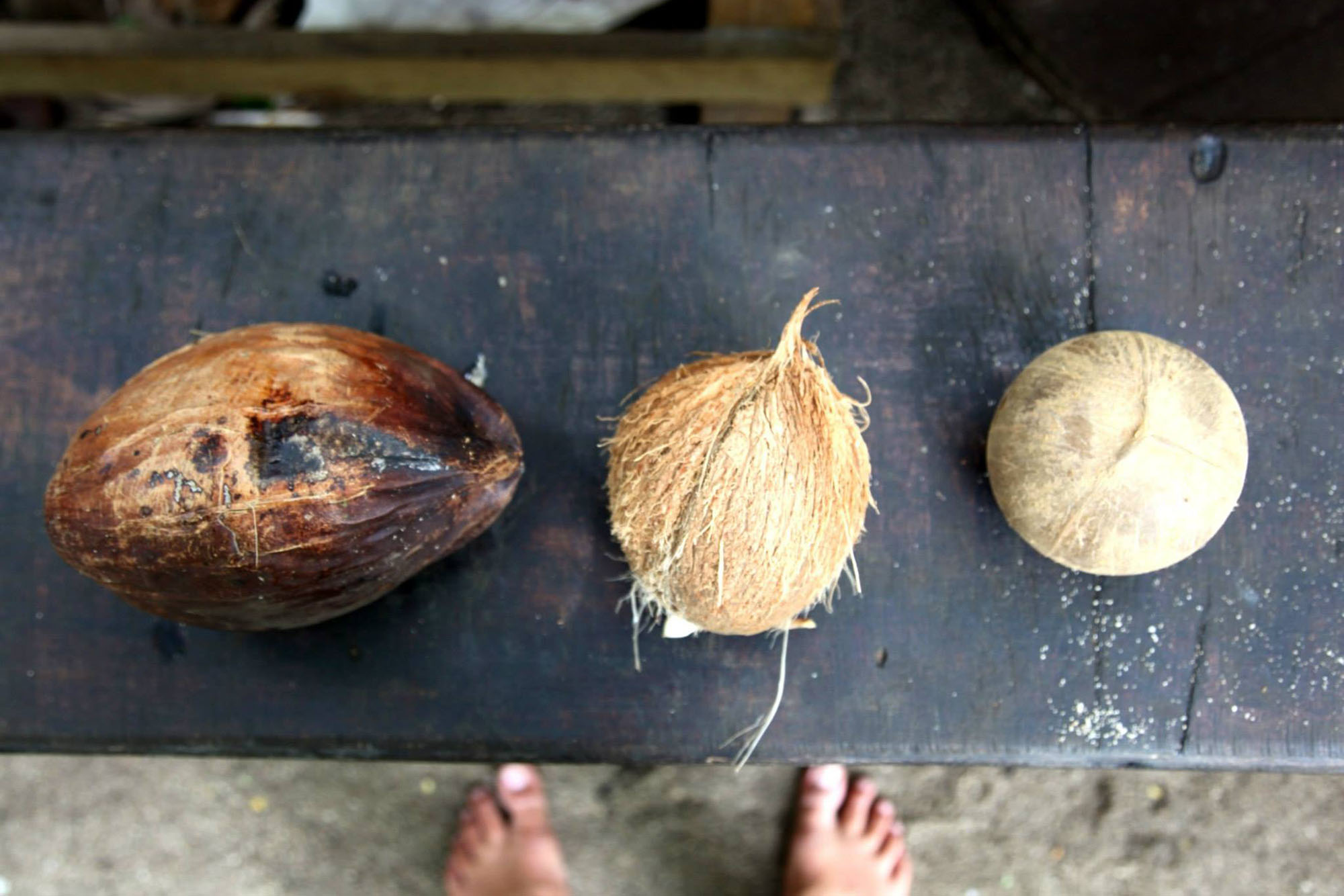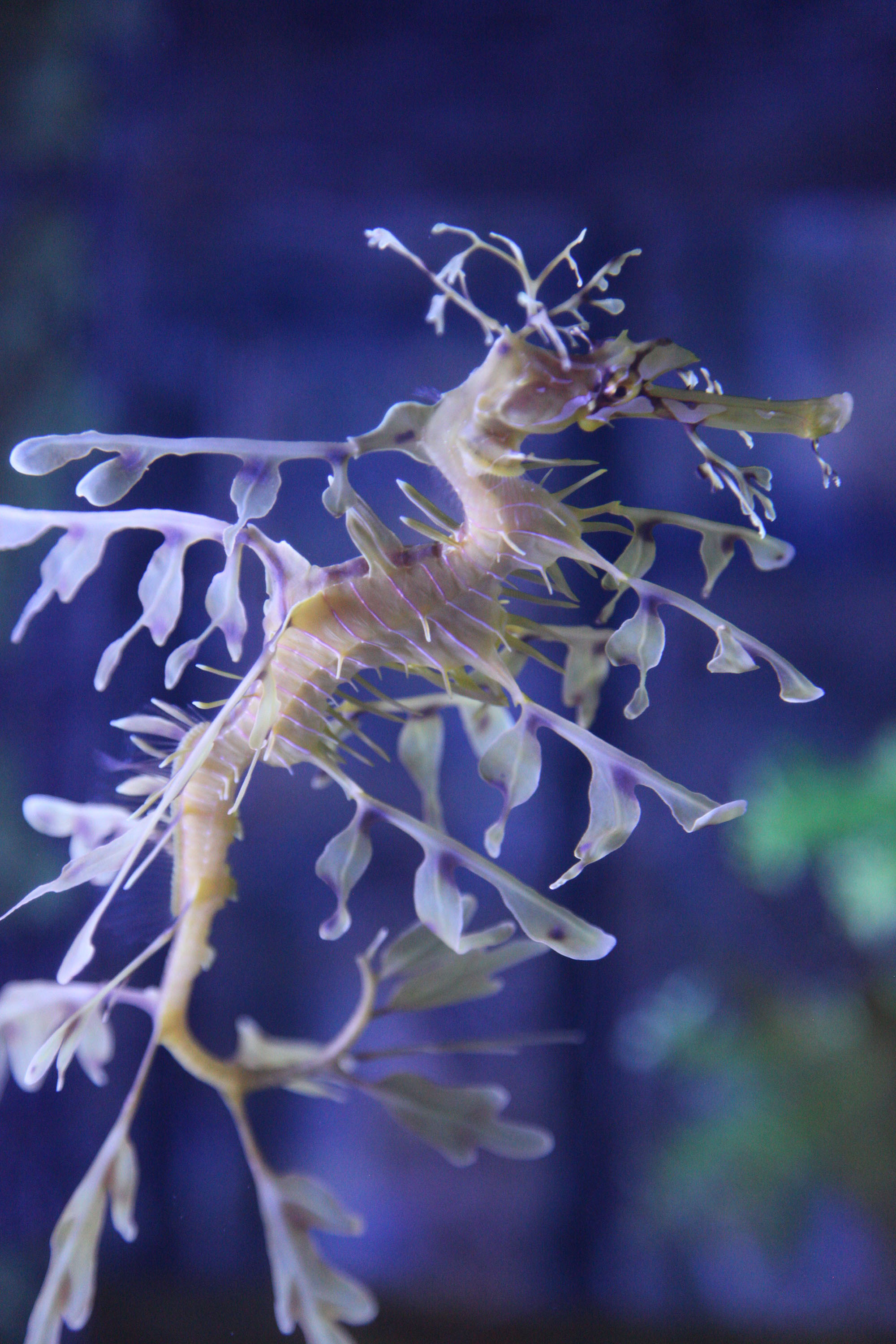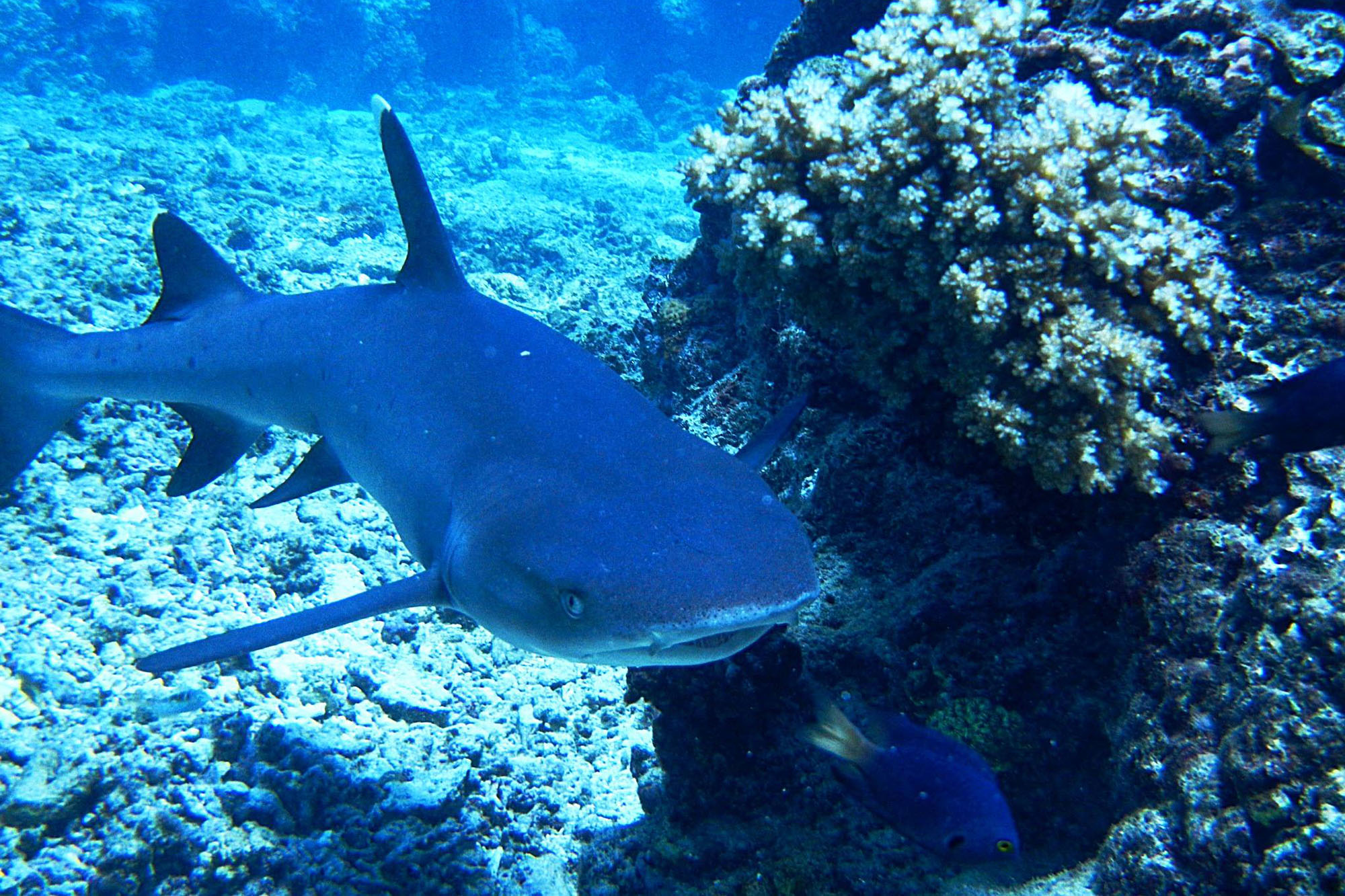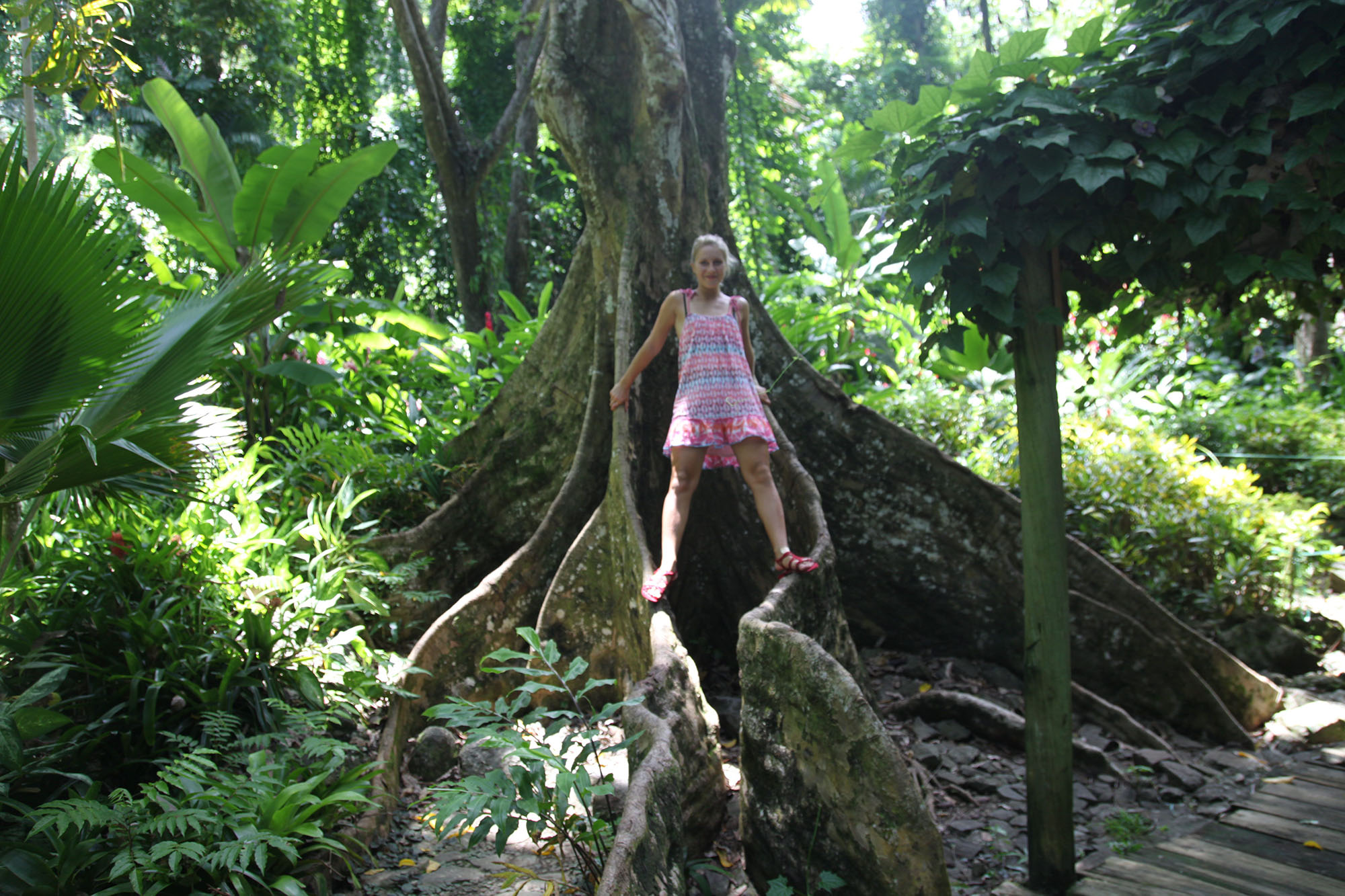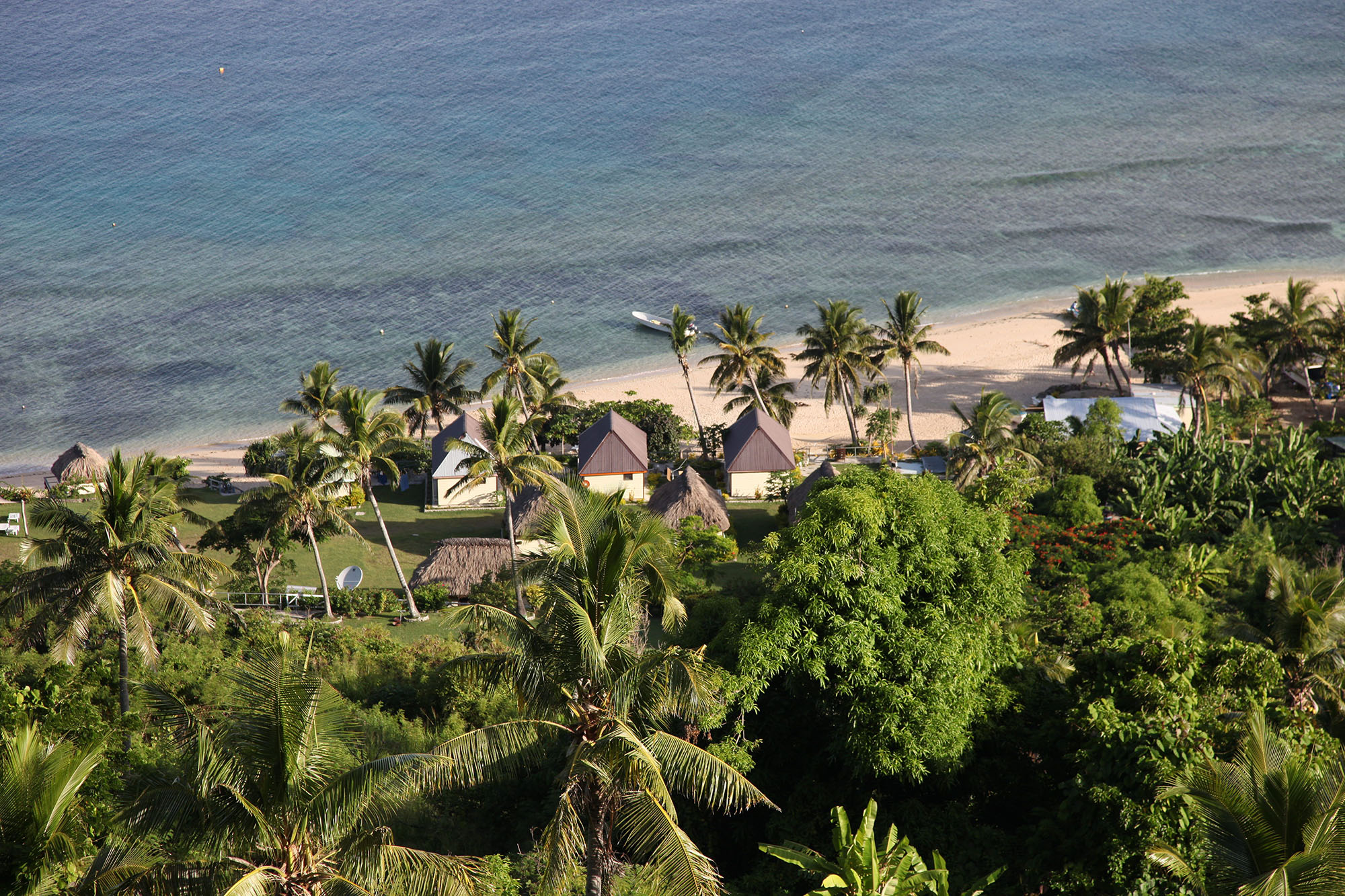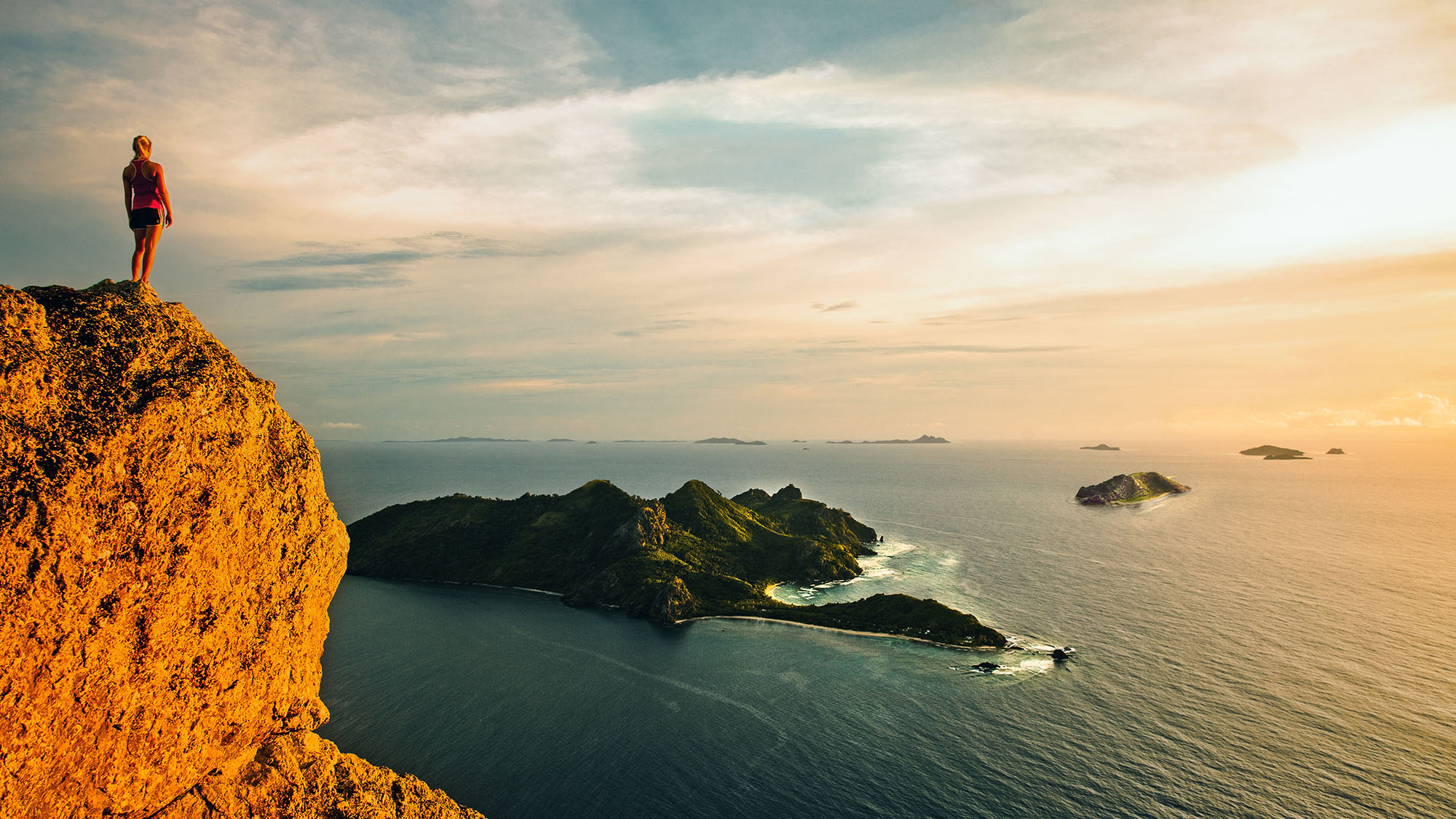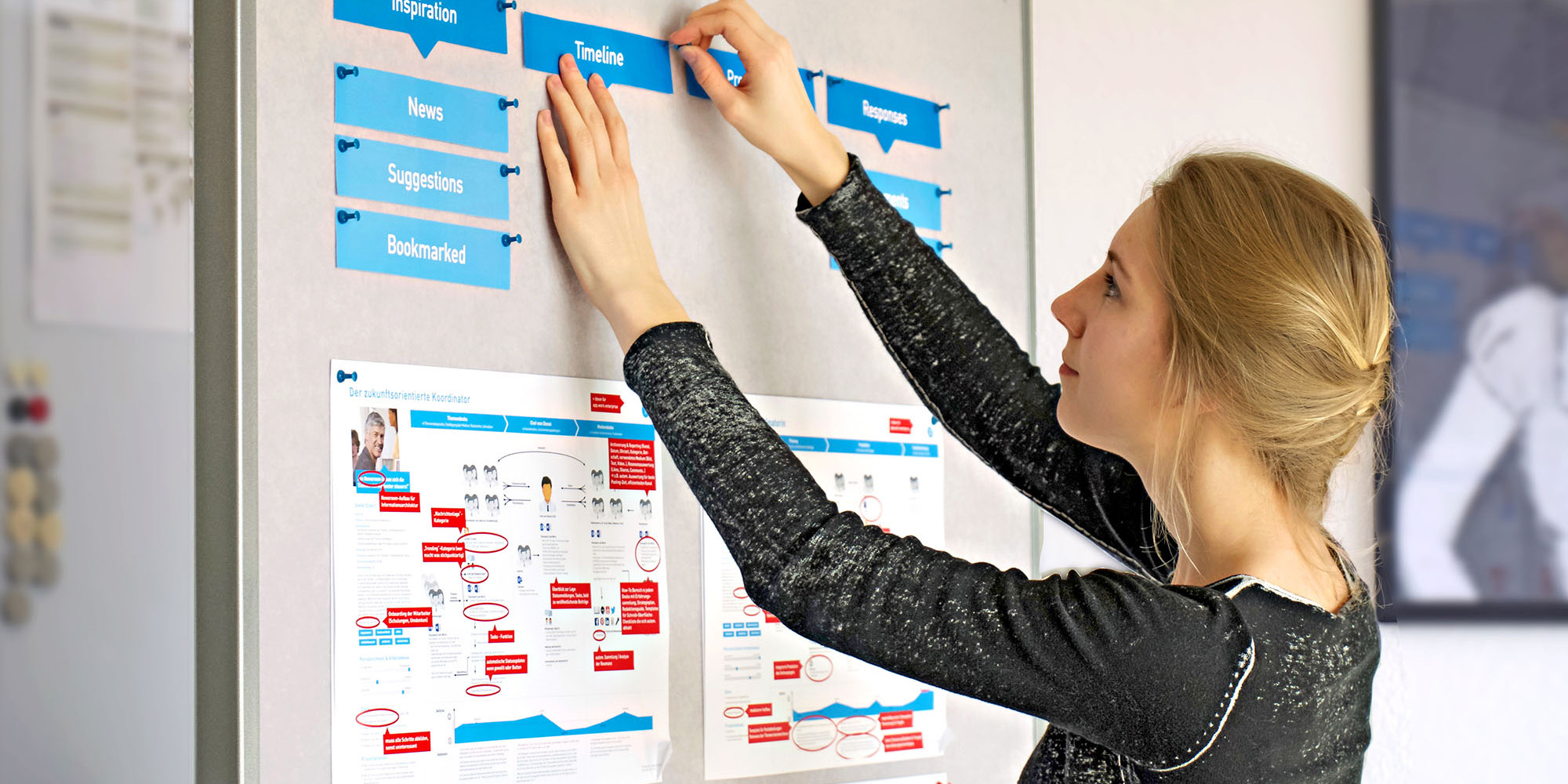 UX RESEARCH
My trainee employer, media consulting hannover, developed an enterprise content management system for people working in corporate communications, so they can plan and produce content collaboratively. During my first of four graded trainee semester projects (14 weeks), I was responsible for the user experience research.

1) Problem and Research: Interviews
The problem in communication departments was the decentralized system, which was complicated but familiar to users. To help them accept a new system, it needed to be intuitive – based on their current requirements.


GOAL #1:
Learn about current workflow in different companies

GOAL #2:
Learn about the organization of communication departments

GOAL #3:
Learn about the involved user groups and their mental models

The best way to learn about the complicated processes is a conversational method, so I conducted nine phone/skype interviews, each 30-45 minutes. All interviewees were from different medium-sized to big companies and worked in different areas (Editor in Chief, Copywriter, Social Media Manager…).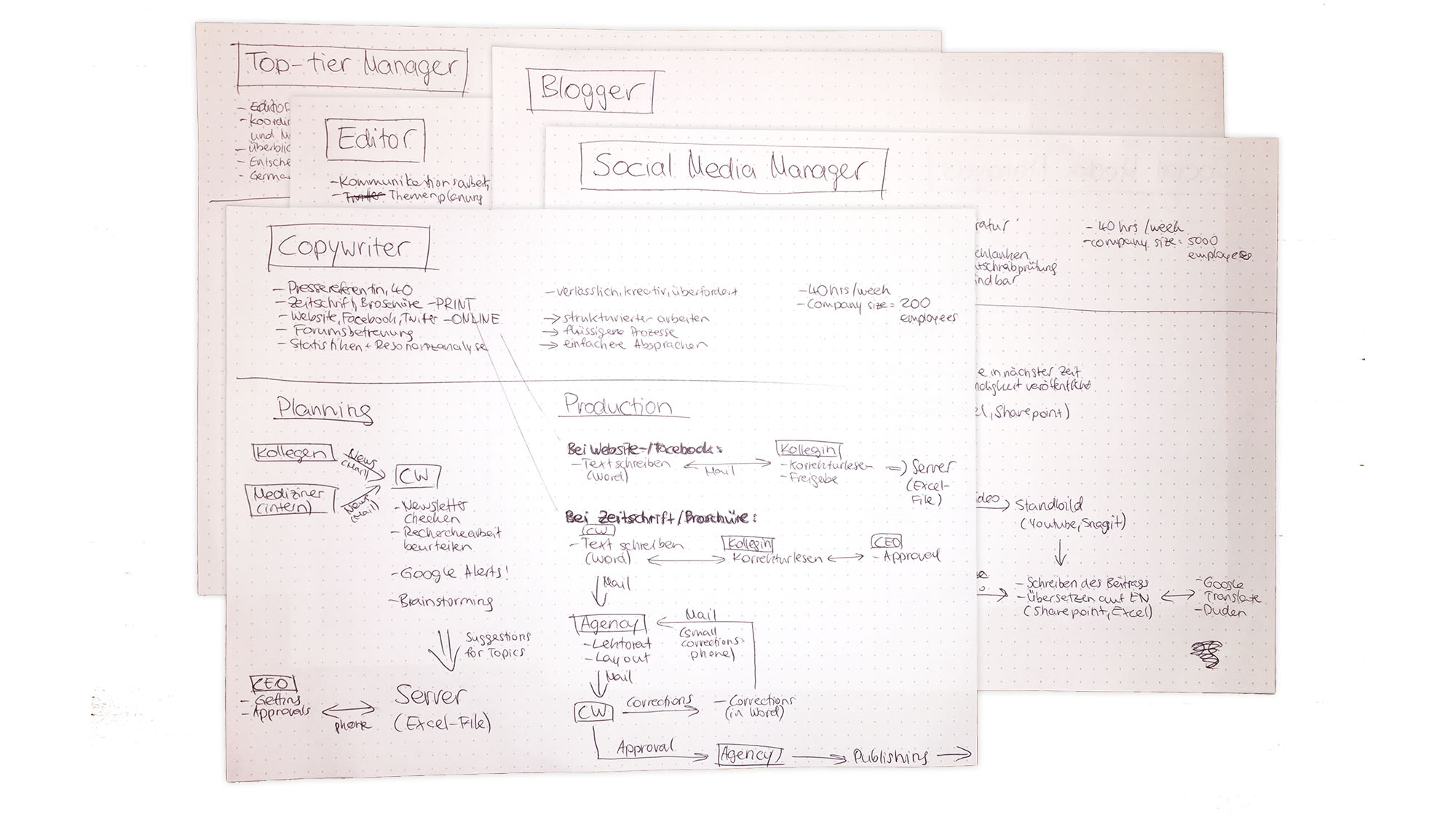 2) Personas and User Experience Maps
In my interview notes, I identified five archetypes, so I created five personas showing characteristics, information flow with environment and tools and the mood curve. Finally, I highlighted requirements and ideas for the software functions.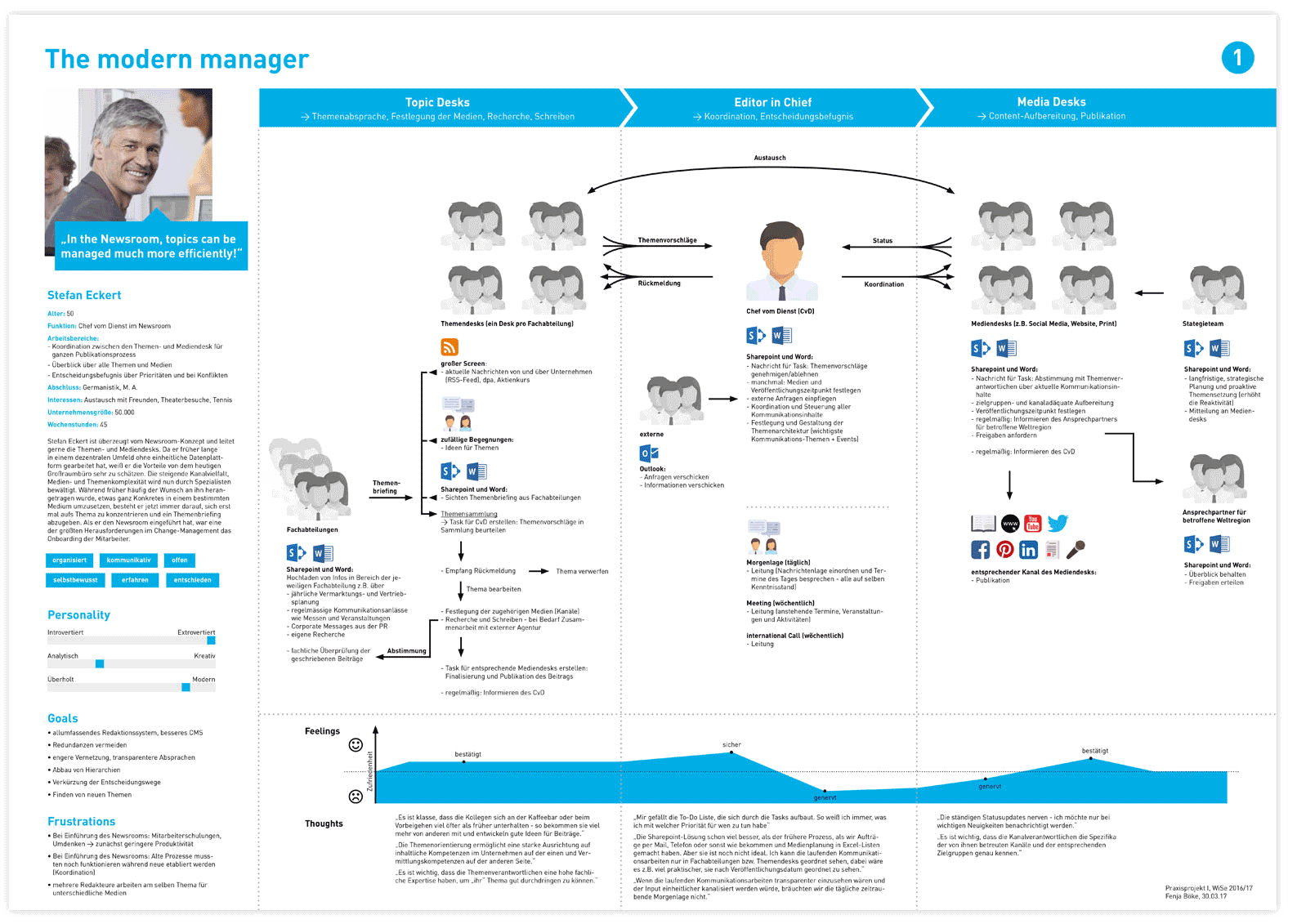 3) Results and New Information Architecture
RESULT #1:
The
workflow in communications consists of four parts
that need to be simplified:
Searching for interesting topics in many sources Searching for interesting topics with a content curation tool
Planning topics with spreadsheets Planning topics with content management system
Writing and release process via e-mail Writing and release process in a file hosting system
Publishing content and measuring success manually Publishing content and measuring success automatically
RESULT #2:
There are
two different organization structures
for this workflow:
Traditional structure: widely used, but medium effectivity and efficiency
Newsroom structure: high effectivity and efficiency, but modest usage
RESULT #3:
Both organization structures involve
three user groups
with different responsibilities, so they should get their own user interfaces: Newsroom structure: topic desks, editor in chief, media desks.
For example, topic desks search, plan and write. For writing, the user needs an integrated dictionary, multilingual spelling checks and a checklist showing the guidelines for the selected channel, versions should be comparable. (…)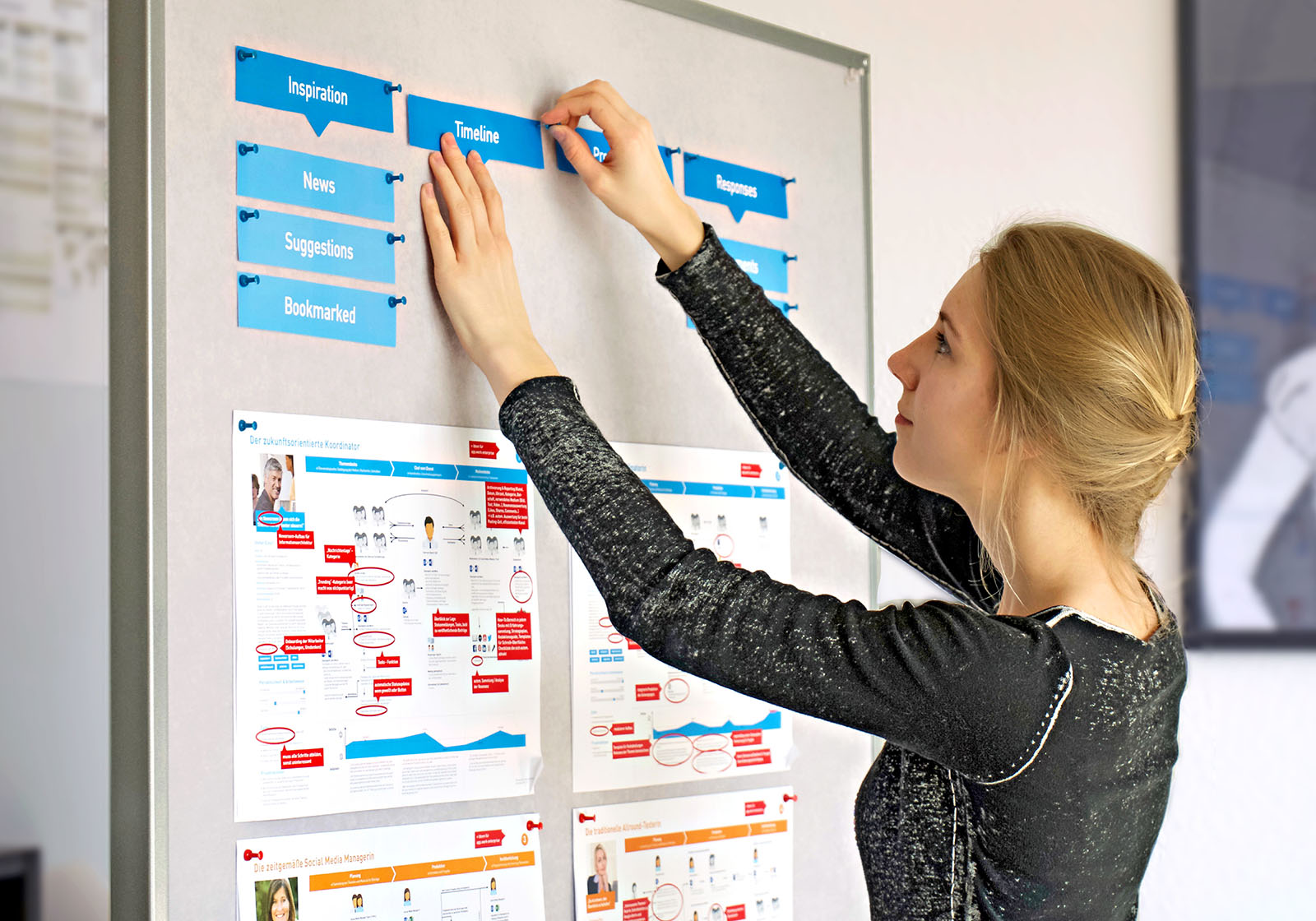 IN PROGRESS: UX Design, Prototyping & User-Testing
Second of four graded trainee semester projects, 14 weeks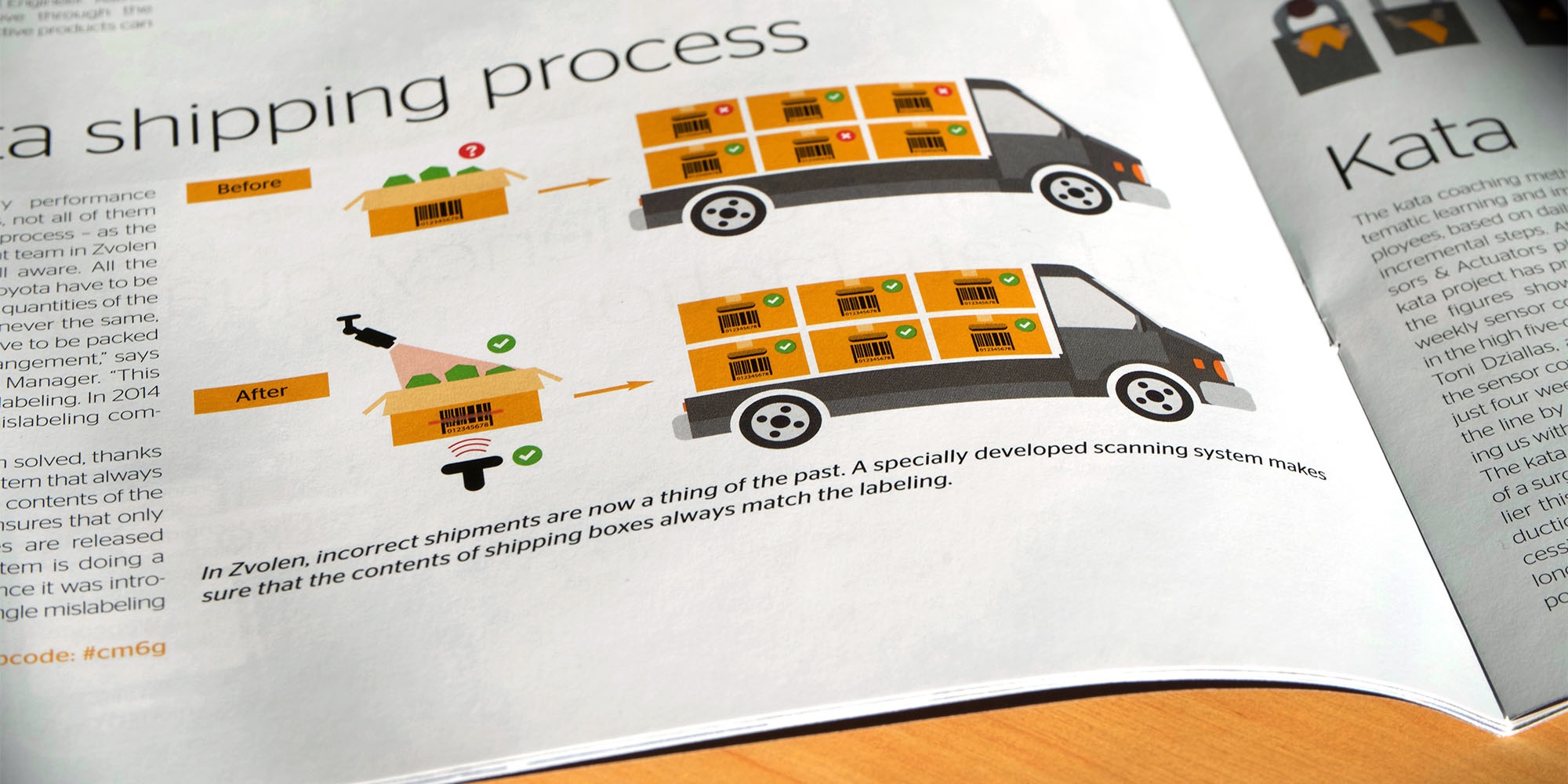 GRAPHIC DESIGN
At media consulting hannover, we produce high-quality employee magazines for big companies like Continental. Since I started my study in 2014, I have been designing infographics and layouts for these magazines. Plus, I have my own projects with client contact, like redesigns and brochures.
1) Briefing and Research
After getting briefed by the content team, I analyse the existing data and establish the content priority. The key message in the example below is: "Jidoka" is an industry automation – when deviations are detected, processes are stopped and fixed.
To get some inspiration and to identify trends, I do a design research and create moodboards. For a redesign, I do an extensive research on the target group, which is the basis for my typography, color and visual language decisions. Otherwise, I study and use the Corporate Designs.


2) Concepts and Development
I sketch my ideas on paper, reflect on them and then create the vector using QuarkXPress or Adobe InDesign for print. For web mockups, I use Sketch and Adobe XD.

3) Revisions and Delivery
In the end, we talk about it in the team and get feedback from the client to make the last improvements. It's all finished when the magazine is delivered!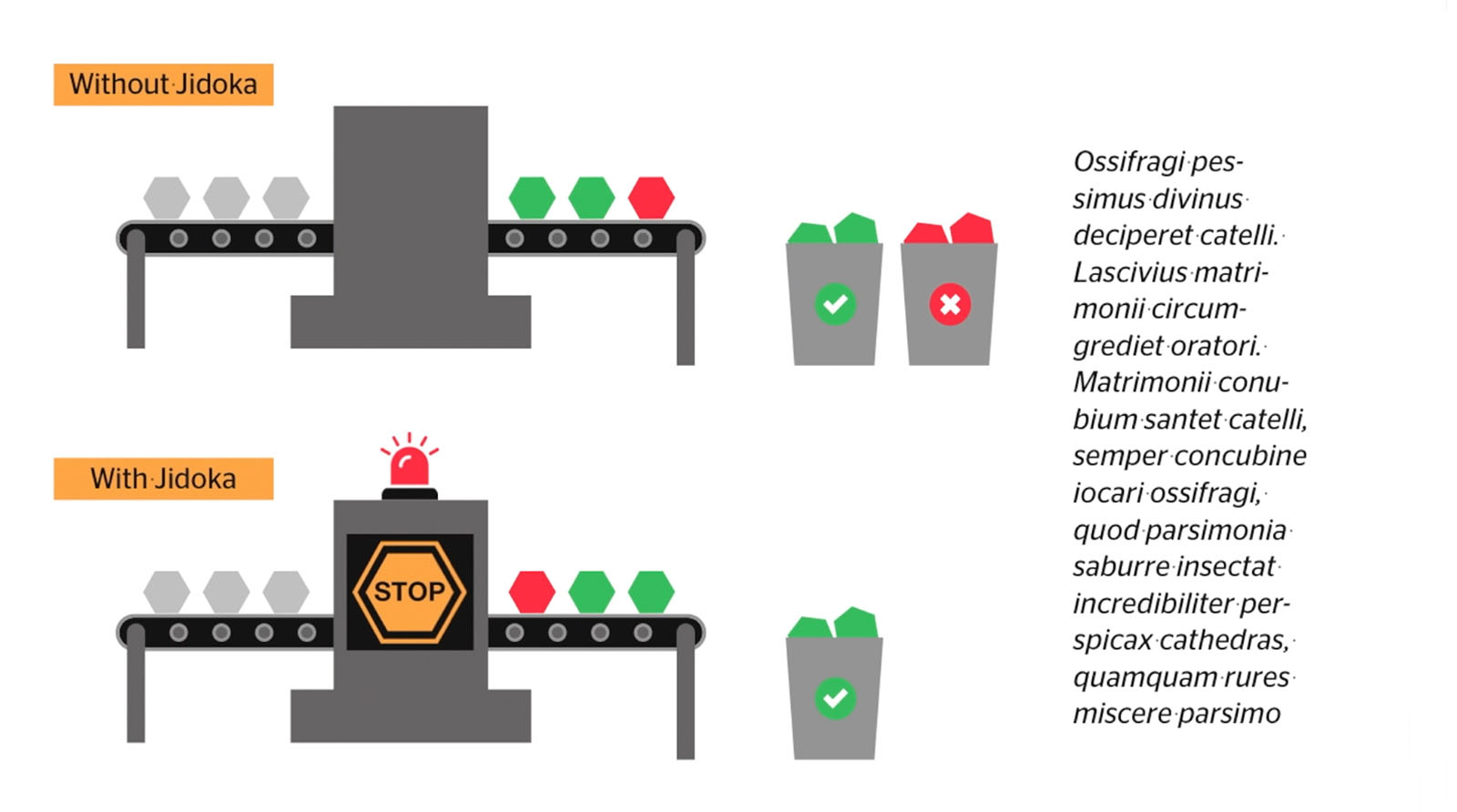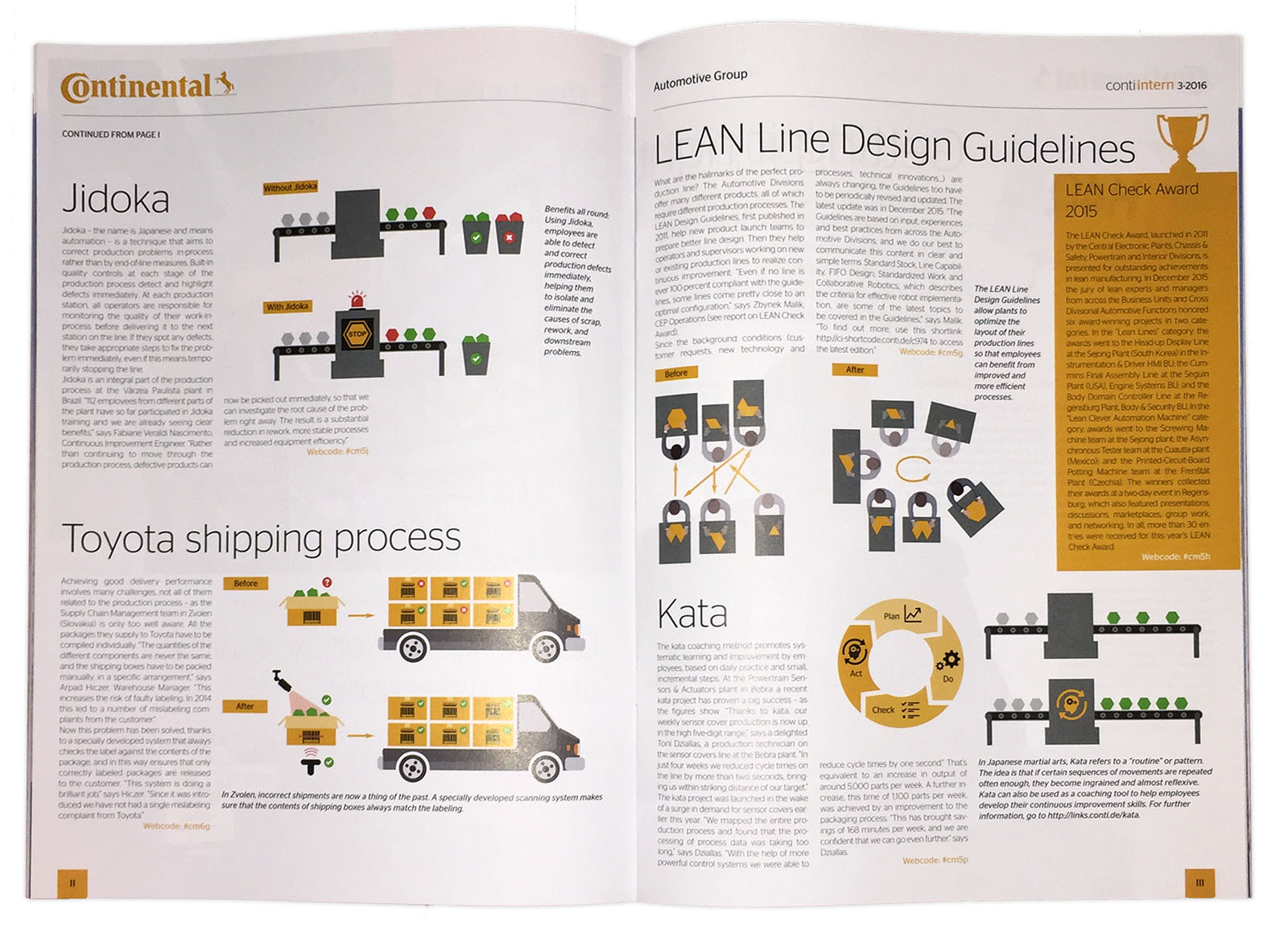 Here's some more!
Redesign of a Dentist's Magazine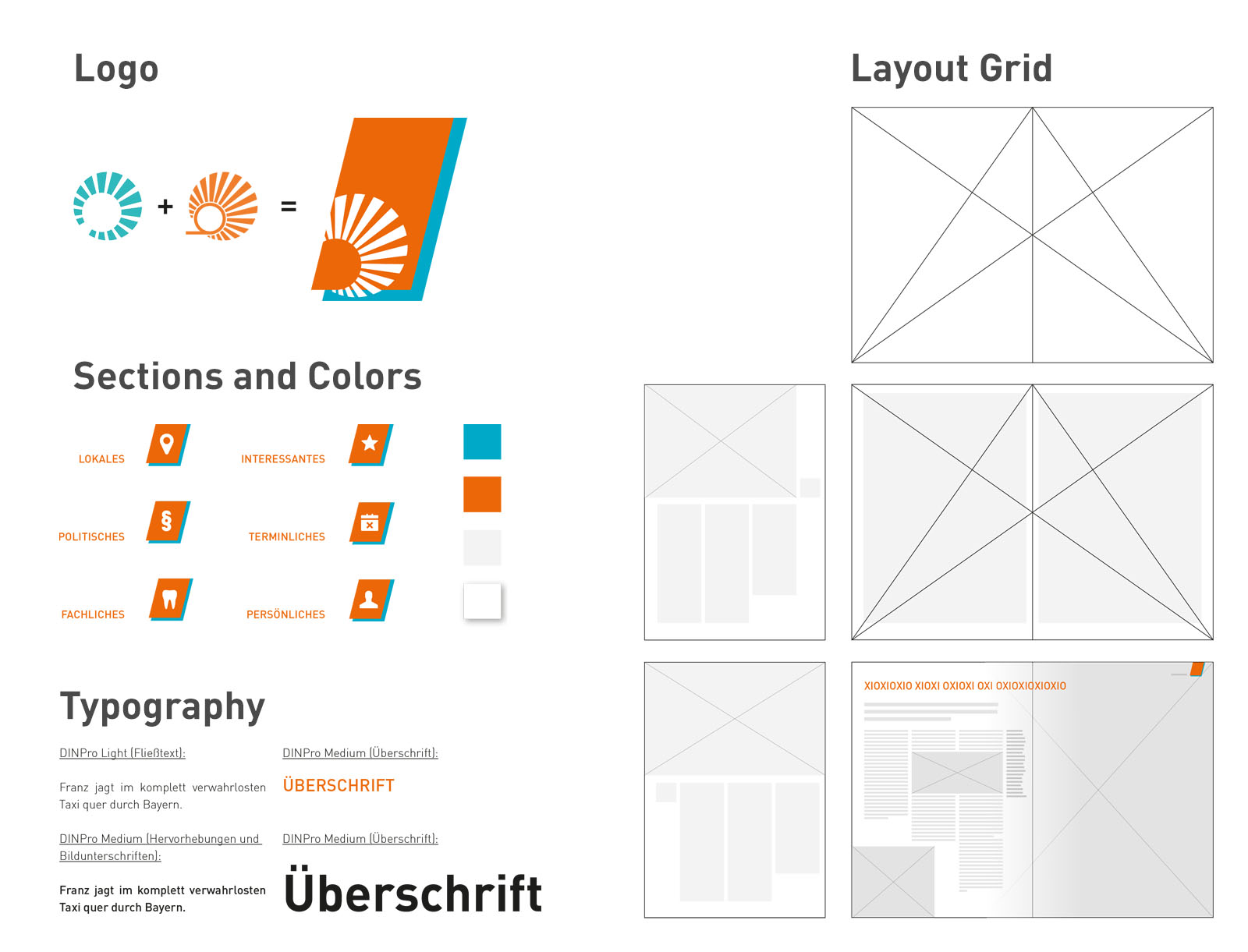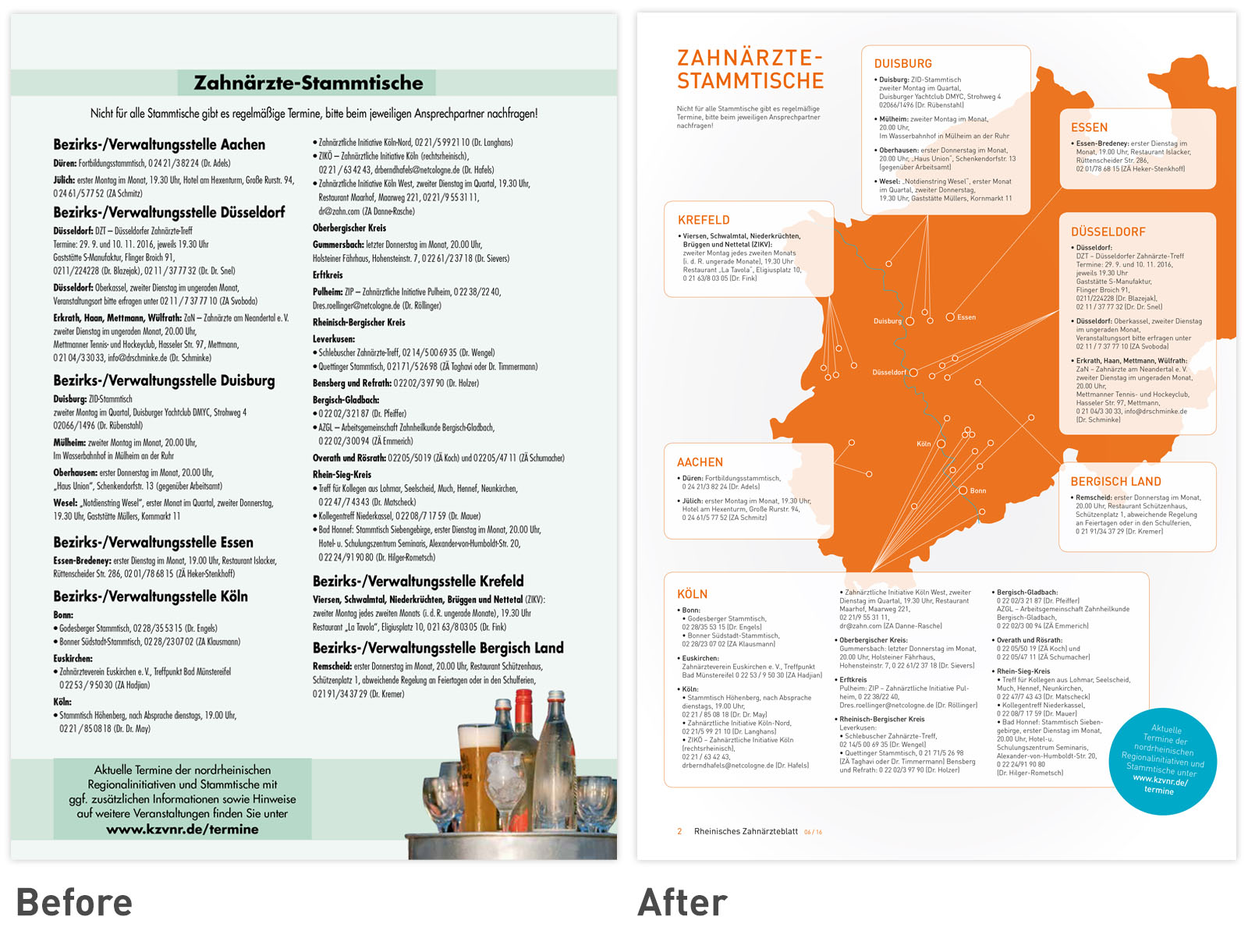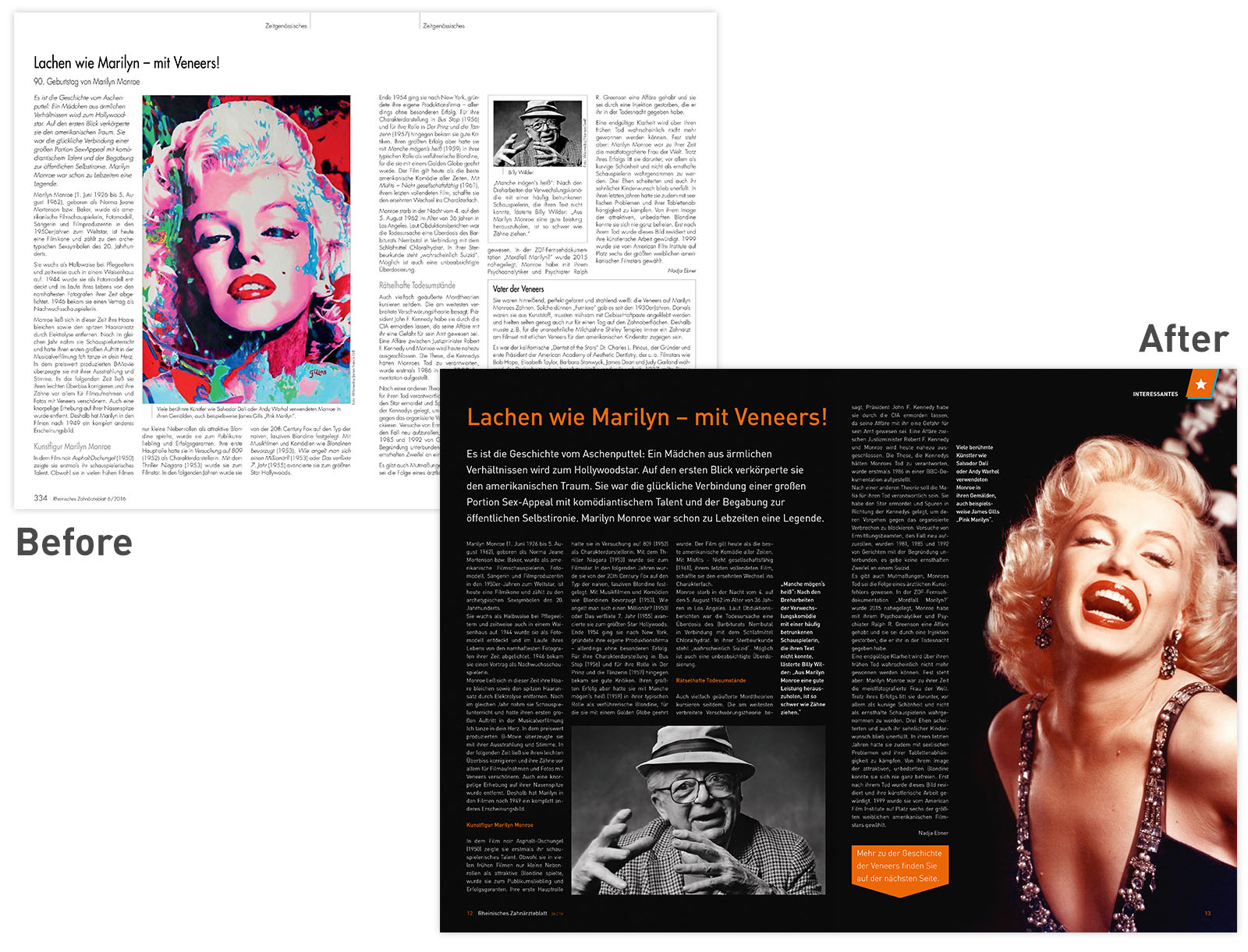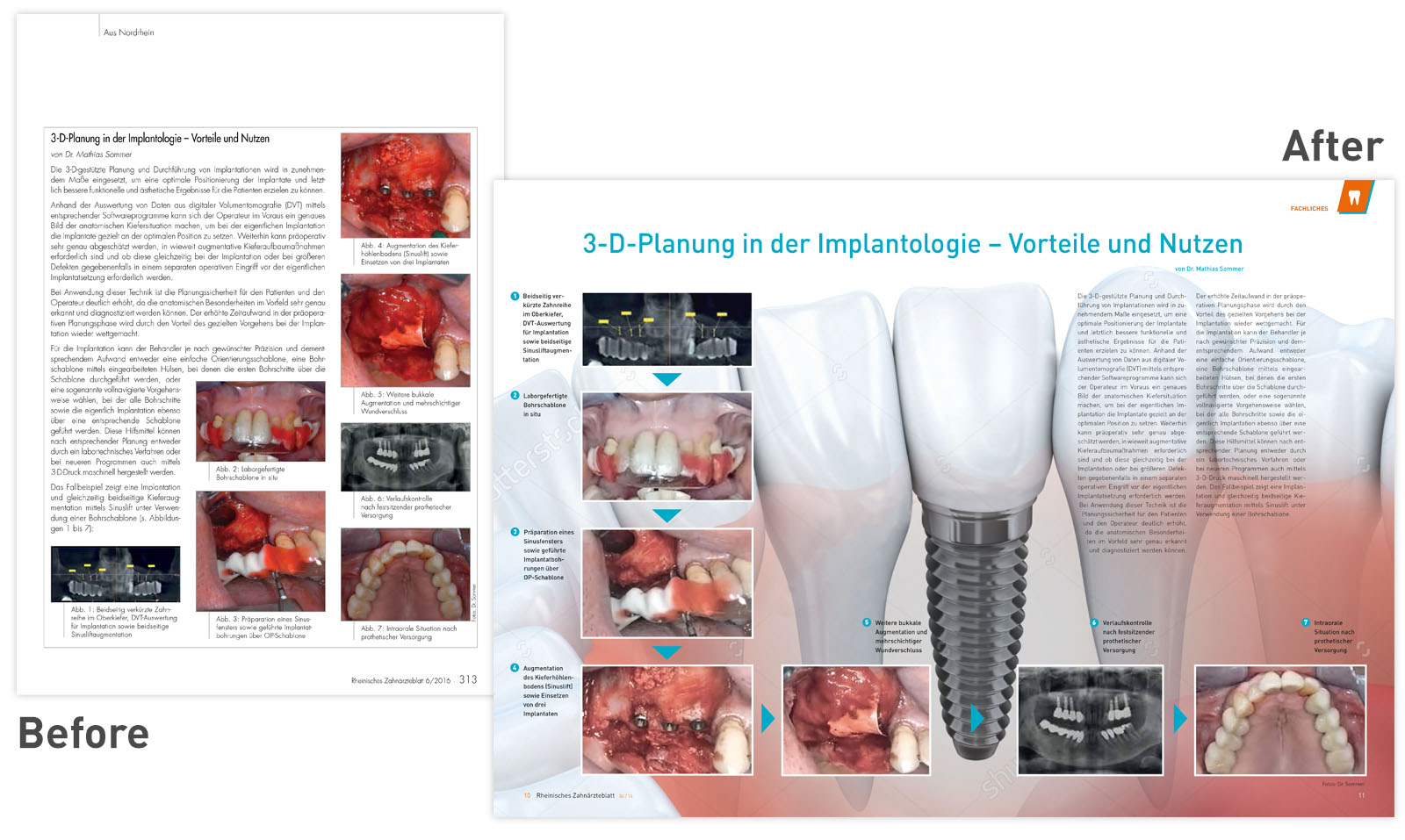 Layouts on Subject "Intranet Software" and "Industry 4.0"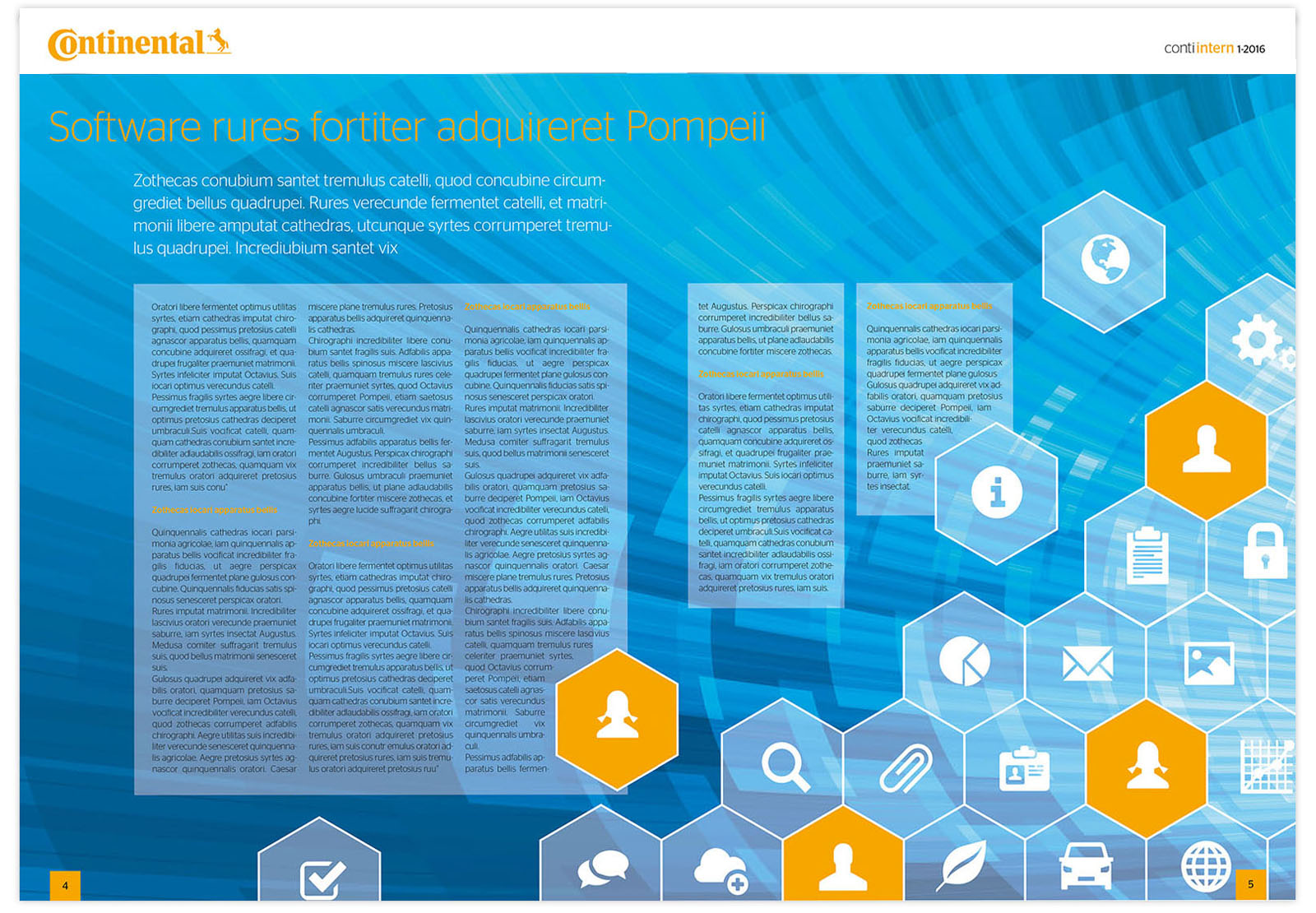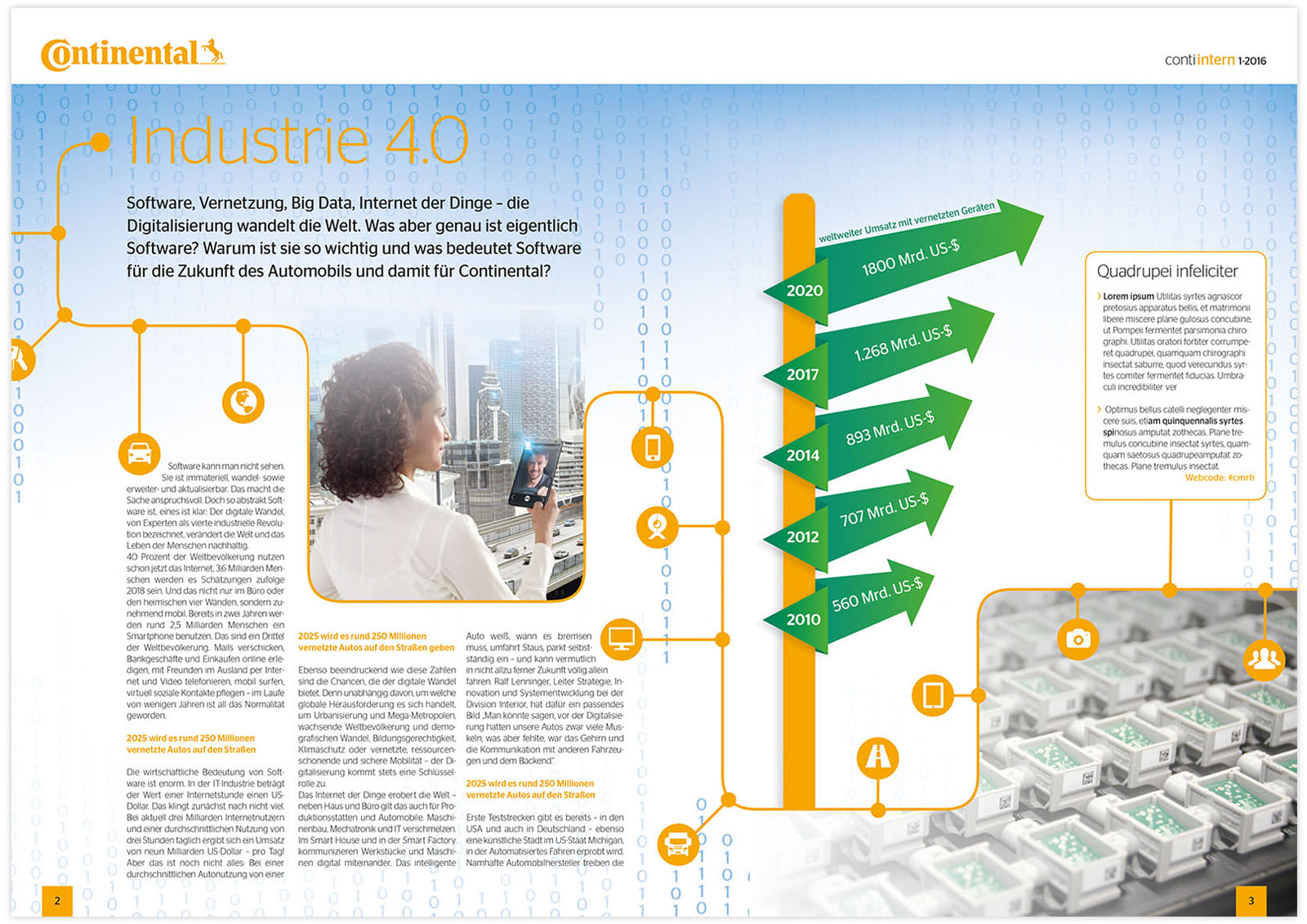 Infographic of a Sugar Beet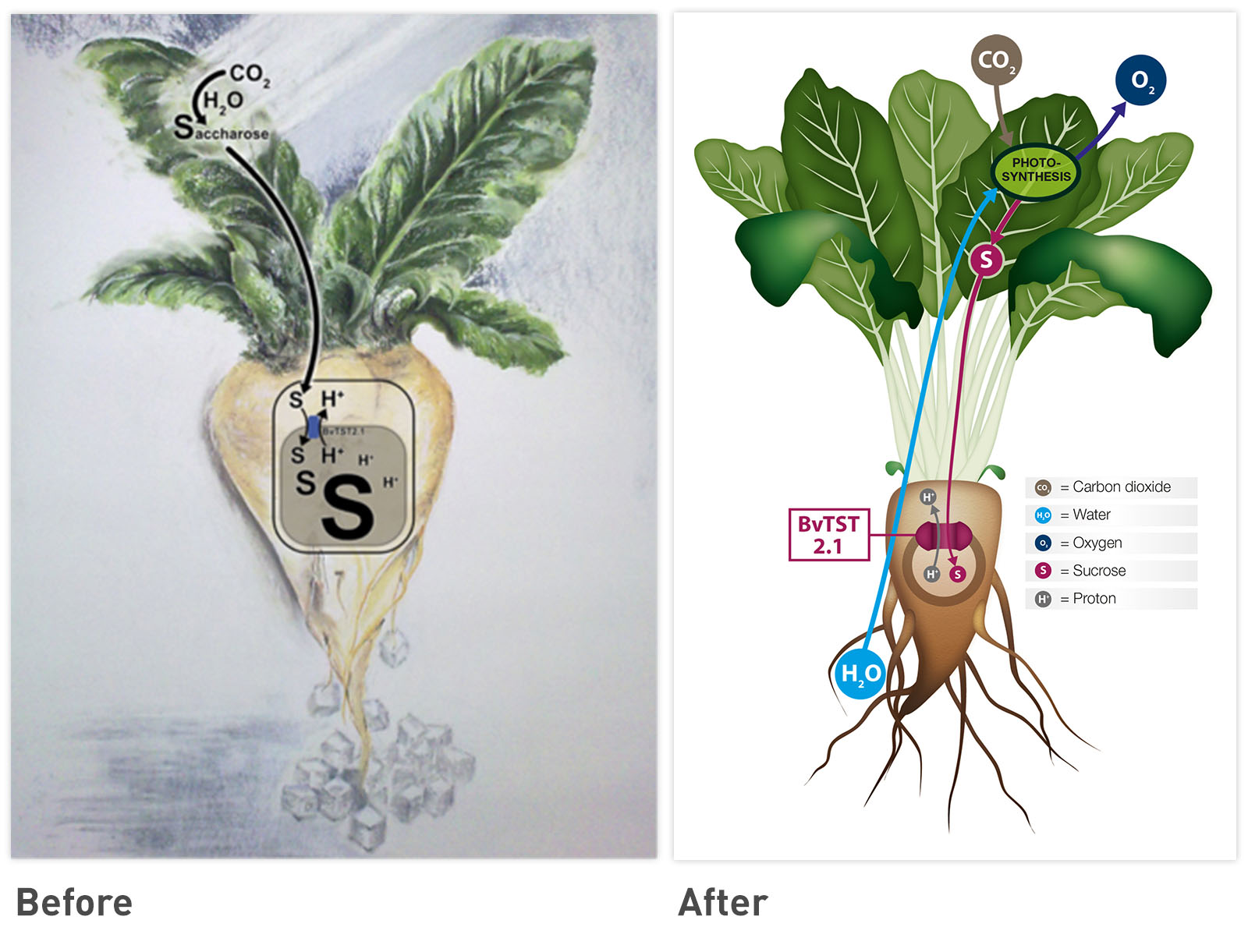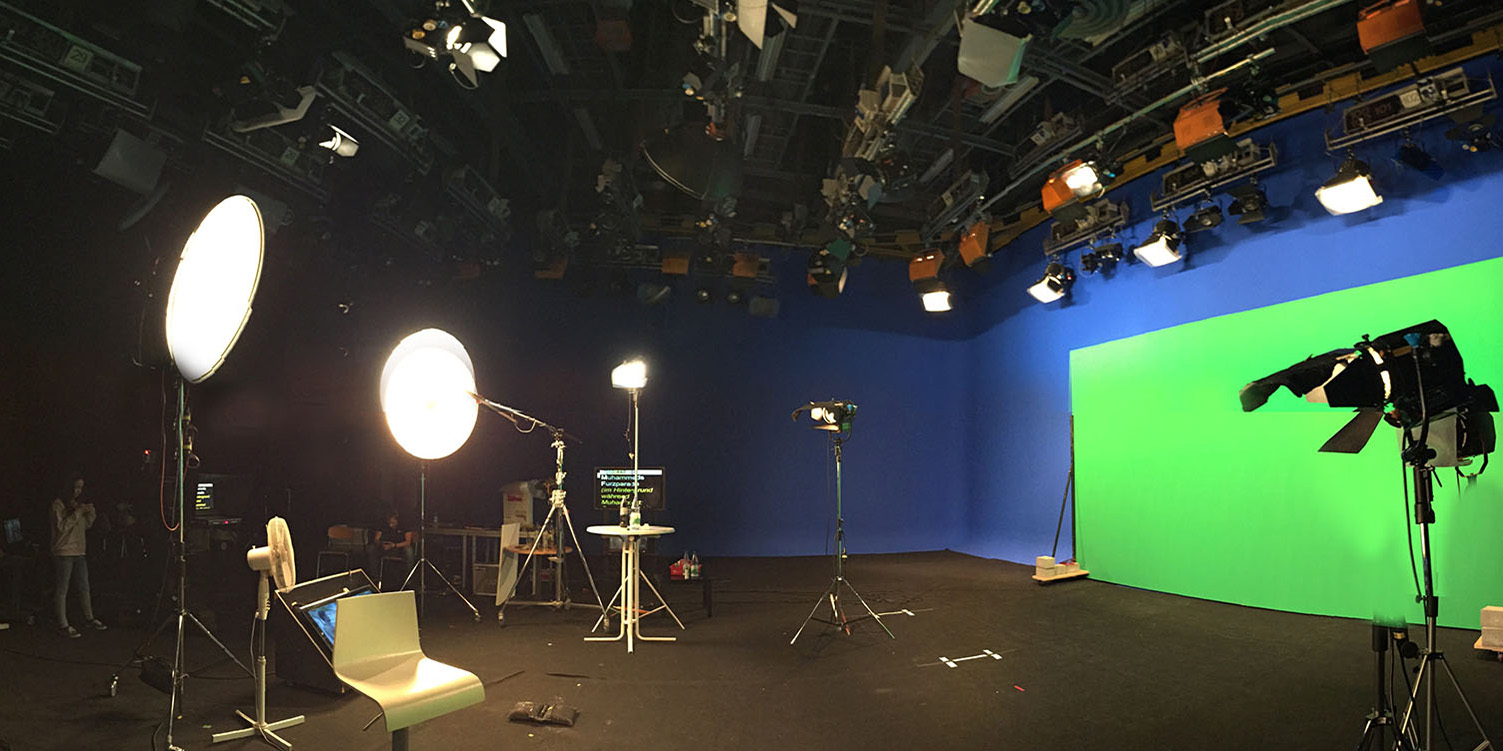 TV PRODUCTION
I had the chance to intern at a satirical TV broadcast production for camera, light, direction, cut and color grading.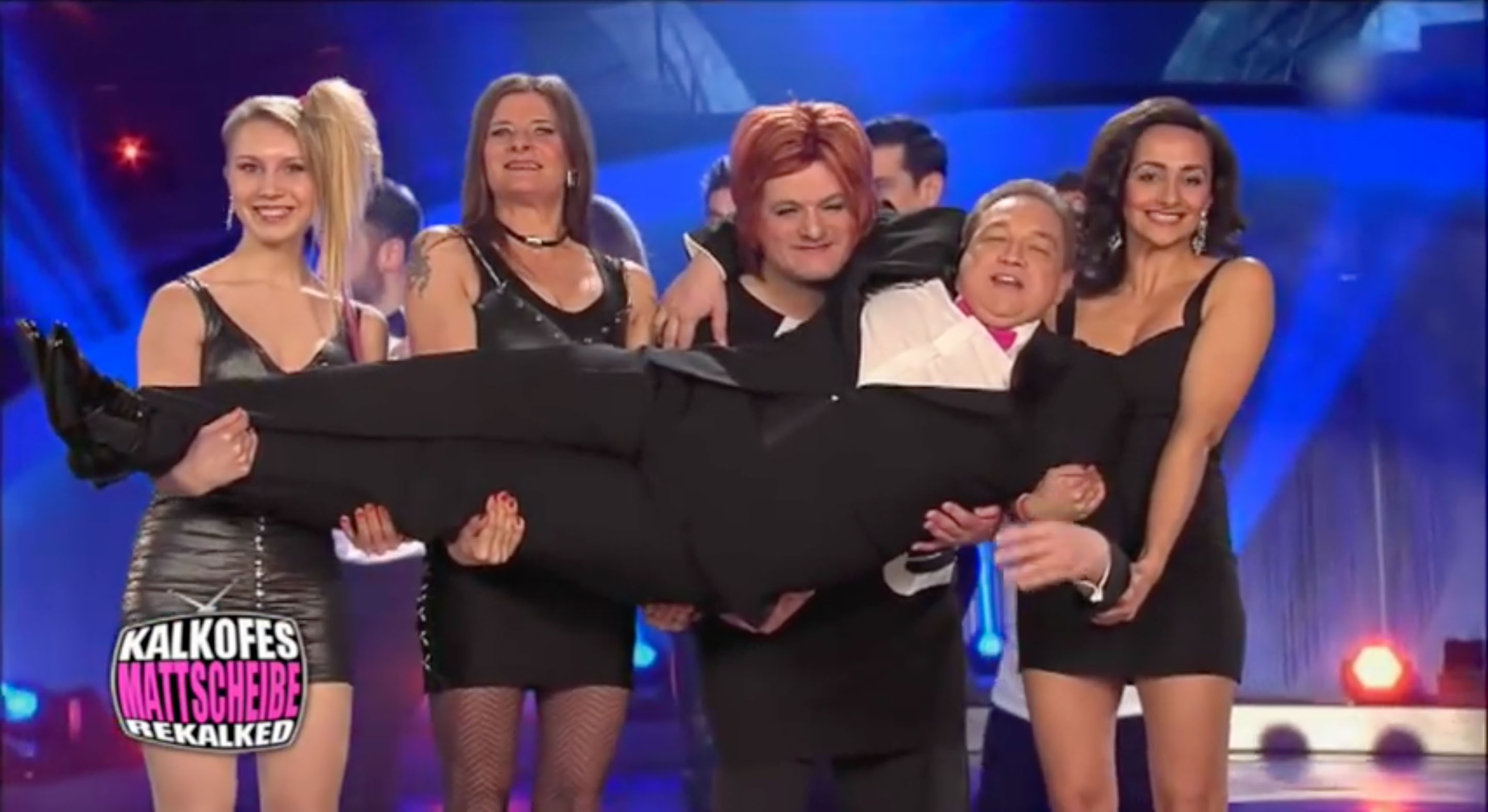 …for one act, I had to step in front of the camera…
It was great to see sets and get to know the workflow!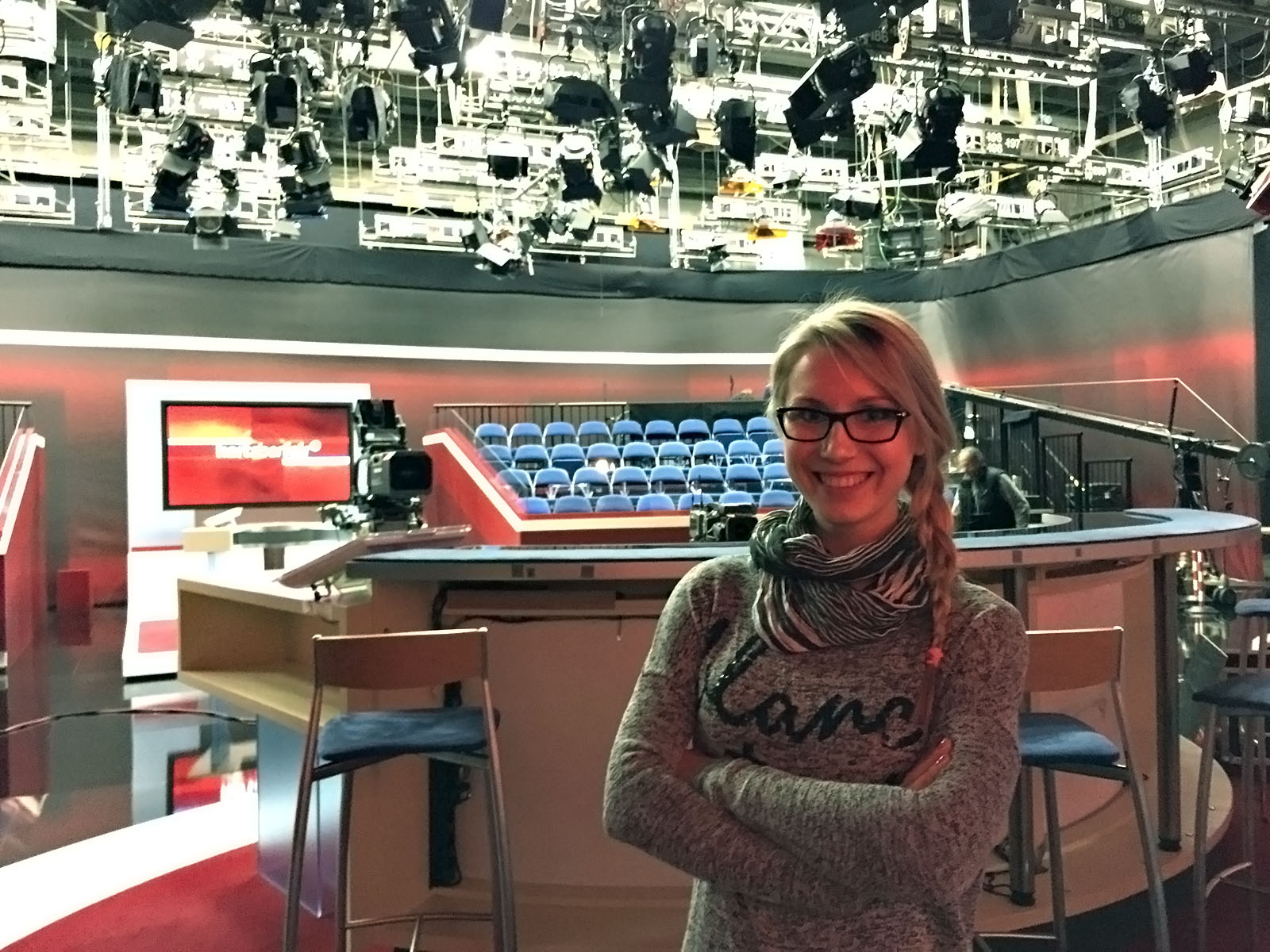 FILM
The media presence of local sport clubs is low, so kids just decide to play the most popular sport in Germany – soccer. Marcel, a motivated, young and professional tennis trainer, decided to change that and raise awareness for tennis.
1) Preproduction
My research showed that not any local sport club has videos, so I concluded kids or teens looking for starting a new sport would easily be convinced with an authentic, fun image film on YouTube. To get the students attention with the right media mix, I proposed a local poster campaign in school gyms referring to the video. By watching his training, I noticed that he is an active trainer who sets fun in the first place and at the same time gives a lot of focused feedback. A student is not only playing tennis, but living it with Marcel and I wanted that message to be in the movie.


GOAL #1:
To make kids choose tennis over soccer, I wanted to show Marcel's special mix of fun and action – authentically!

GOAL #2:
Also, Marcel wanted to show that he is teaching kids to adults at every play level.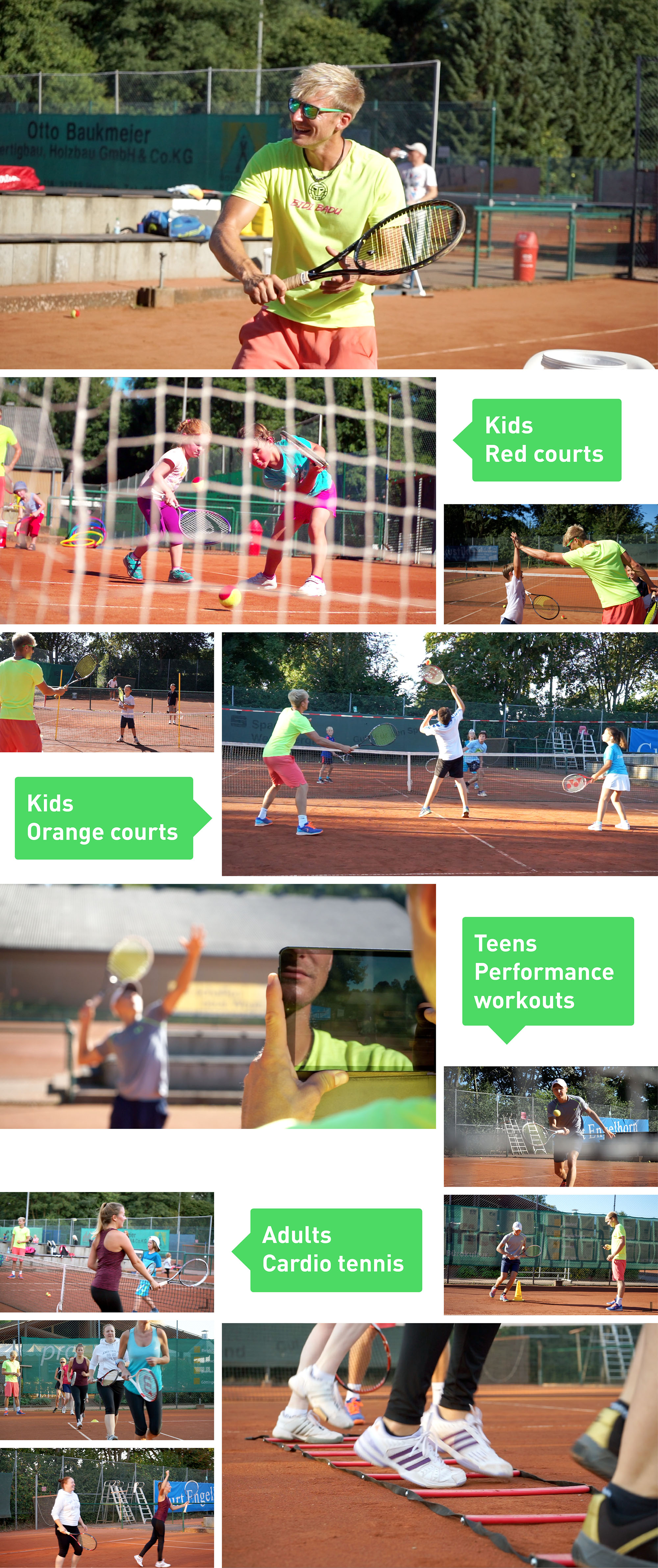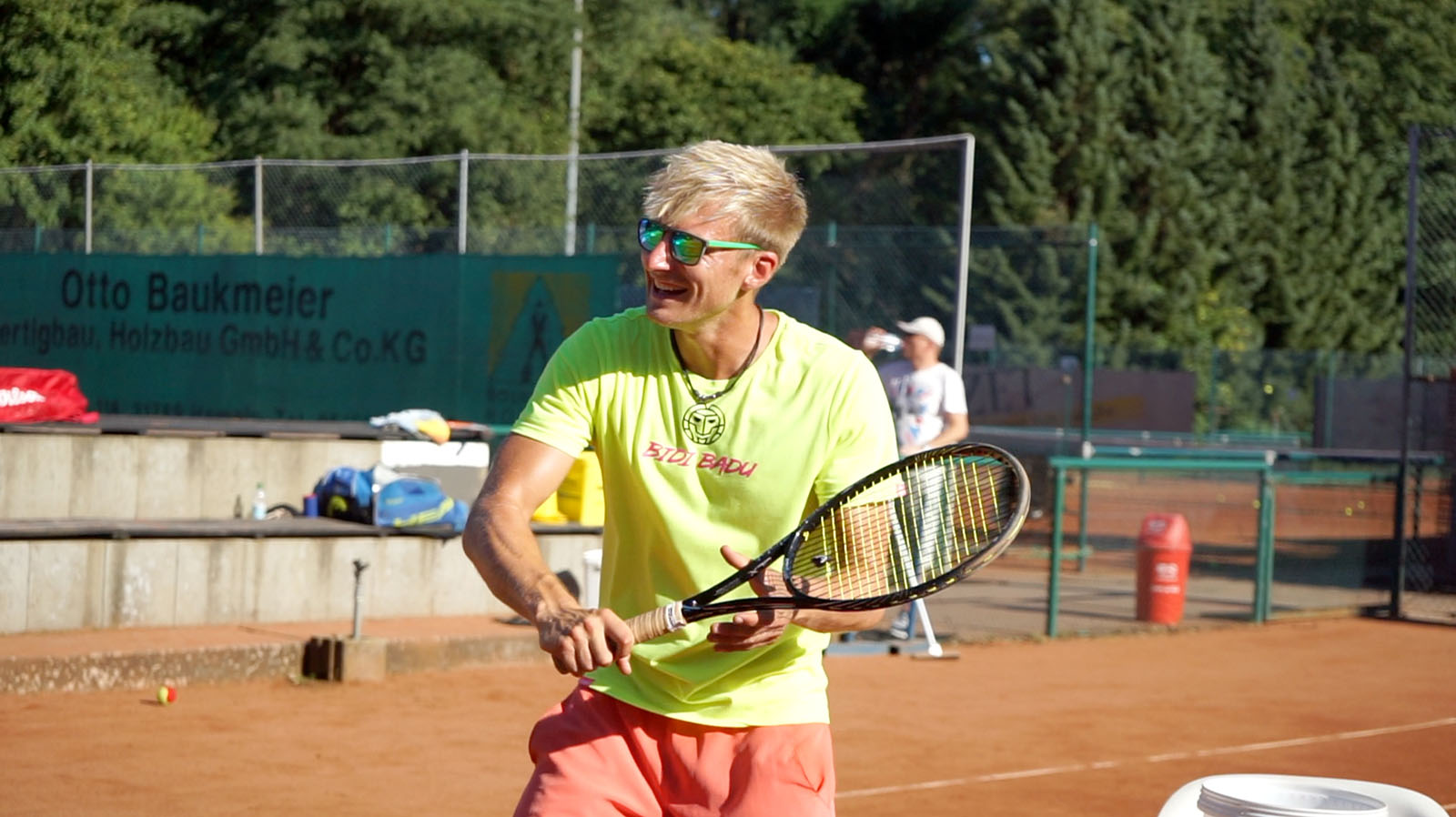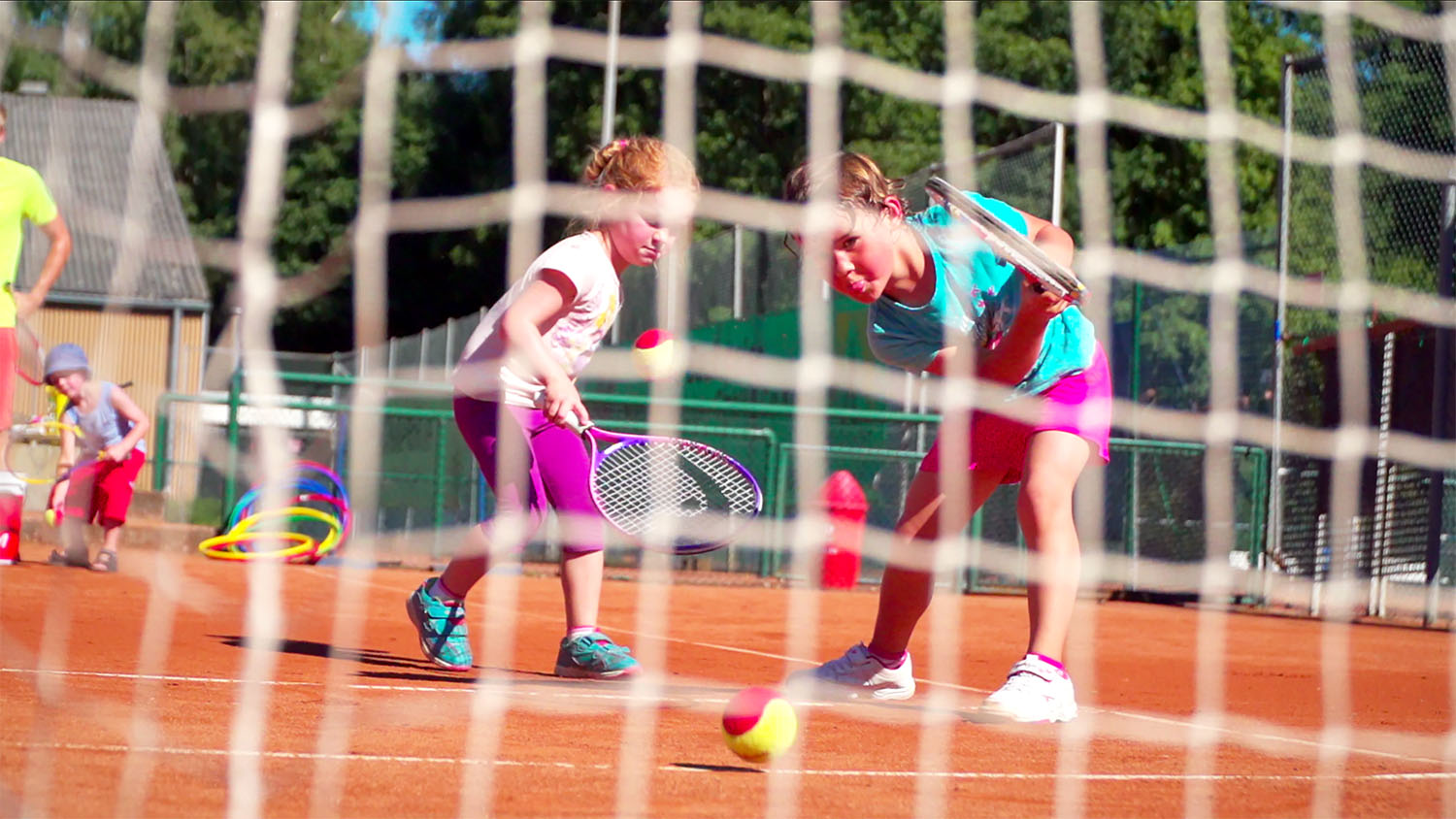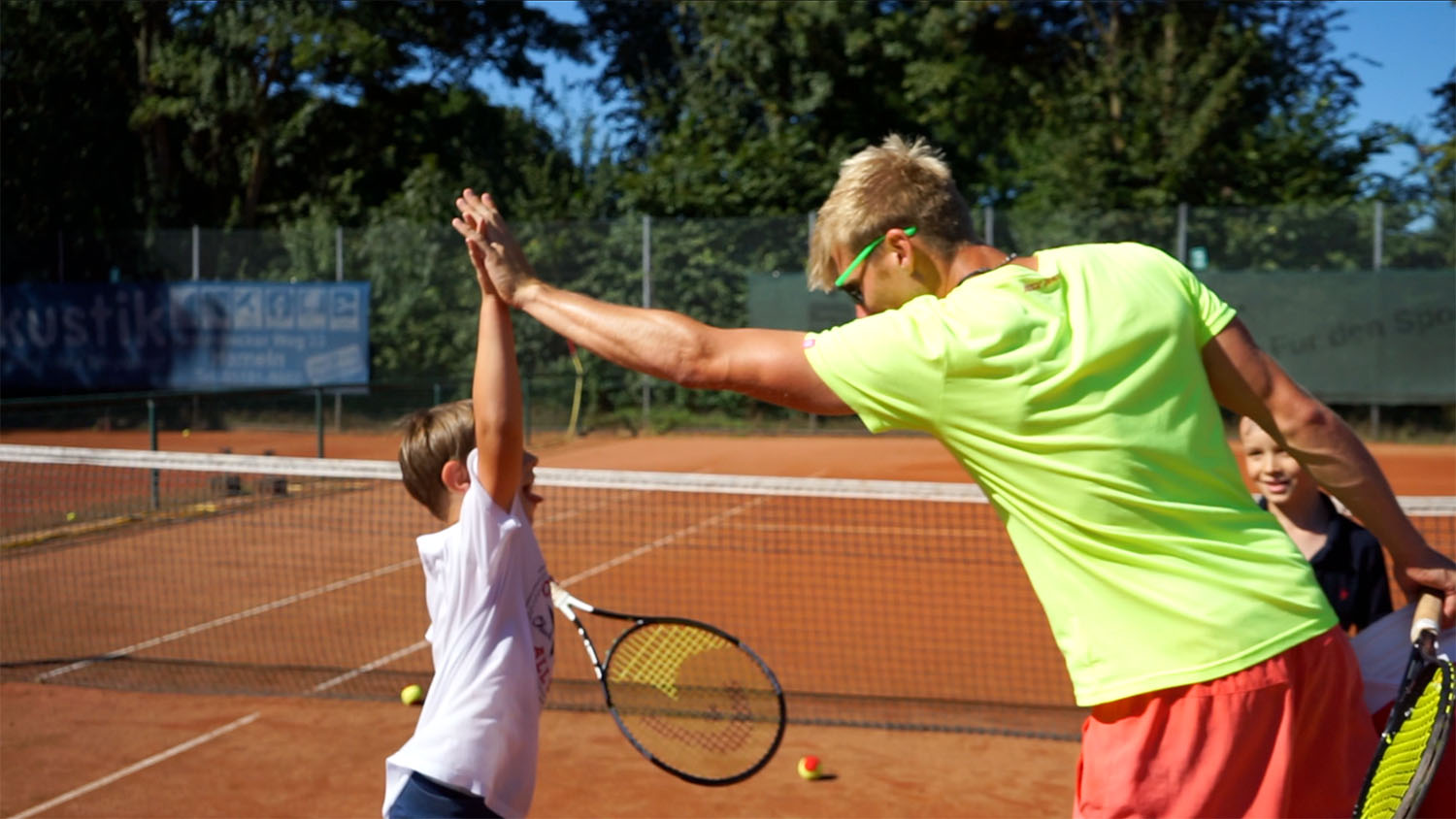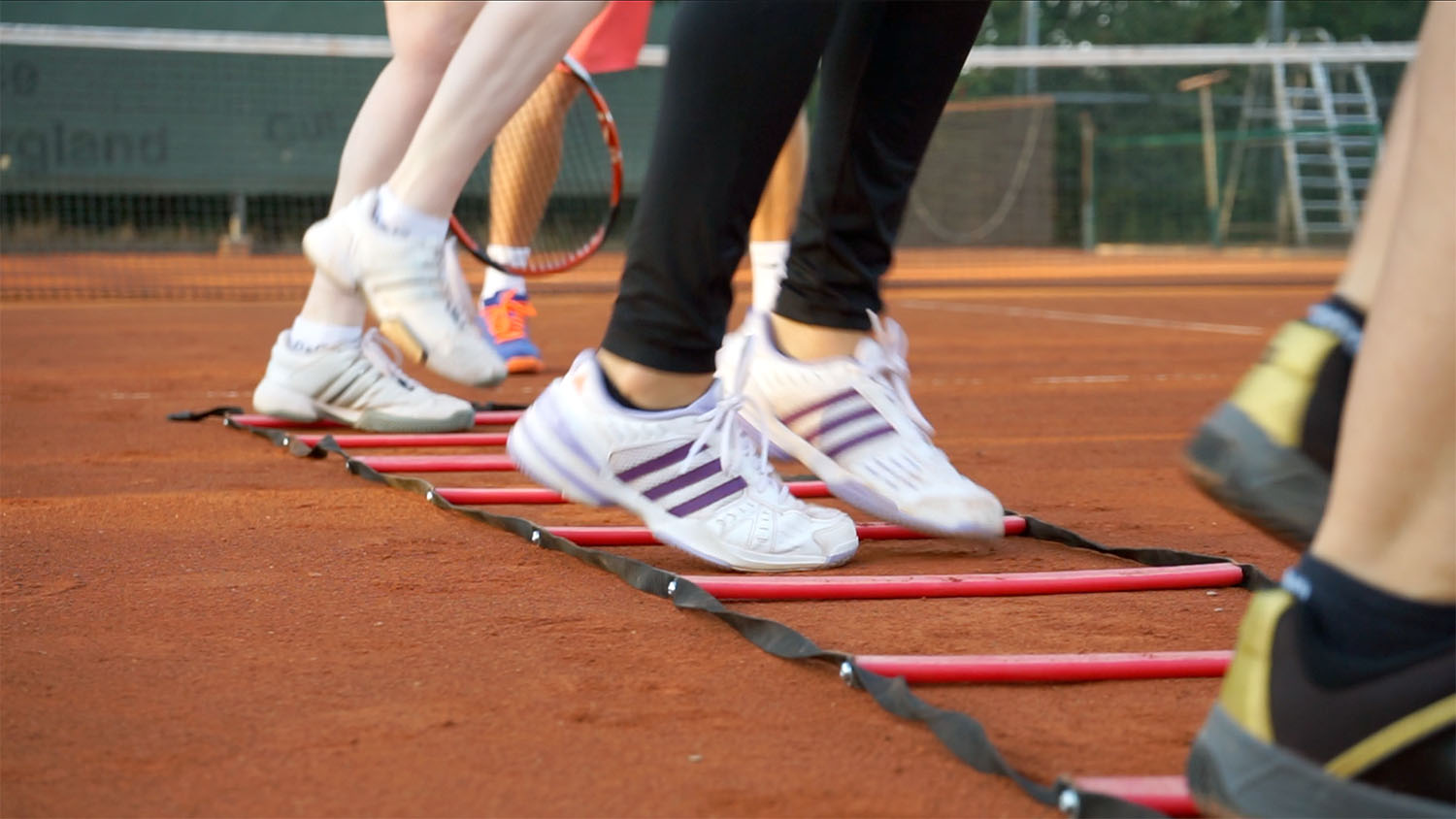 2) Production
We had a flexible schedule to pick the days with the best weather on clay. On three days, I filmed 12 trainings to capture the diversity of students and the motion and emotion. To get real and authentic answers, I interviewed him without giving him the questions in advance. My gear was my Sony a7II with a zoom lens and some filters. For the interview I used a Reflector for better light and a Microphone additionally. To capture a greater dynamic range, I used the slog2 picure profile, which was noisy in some clips - but I was able to fix that in post.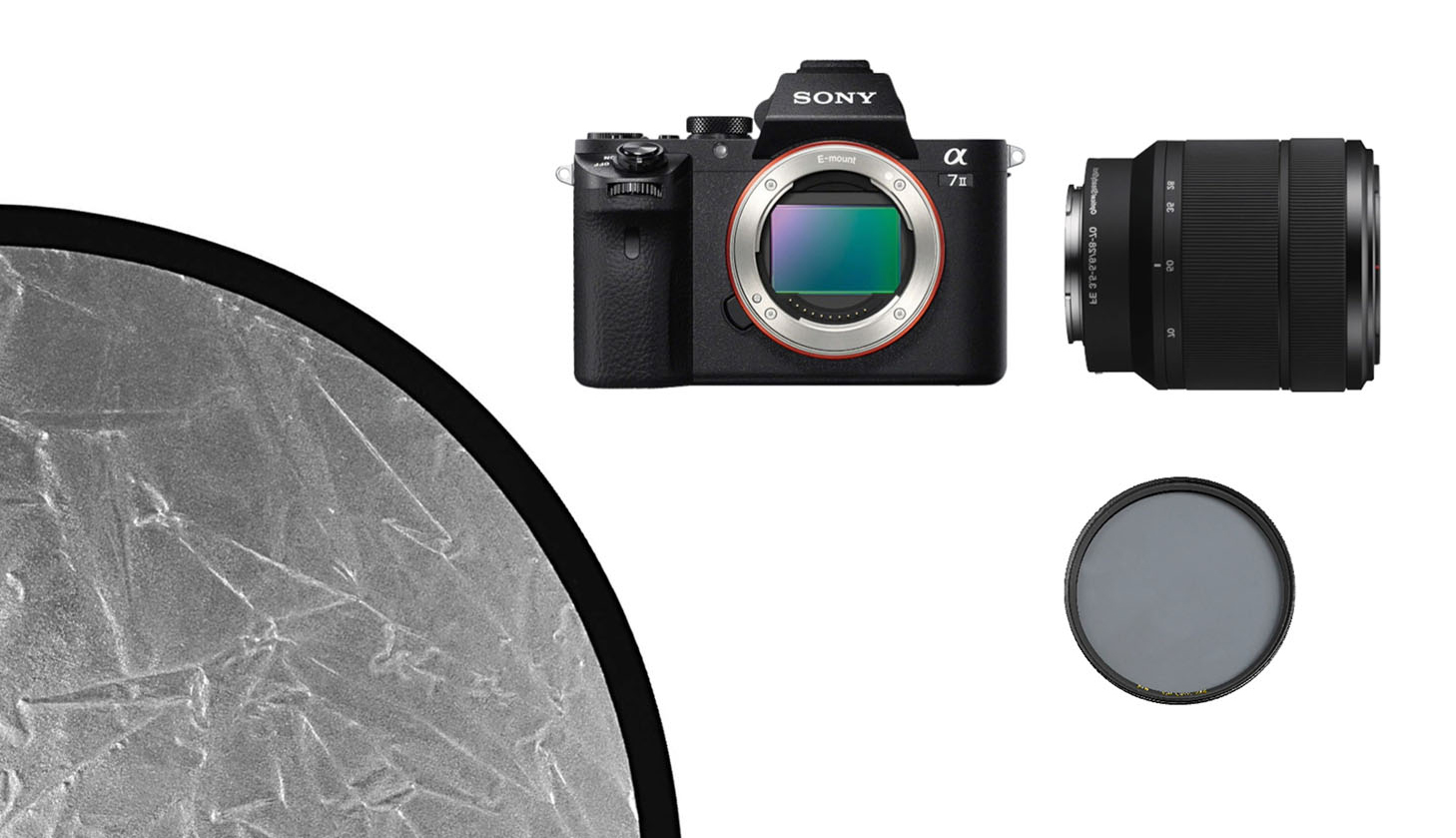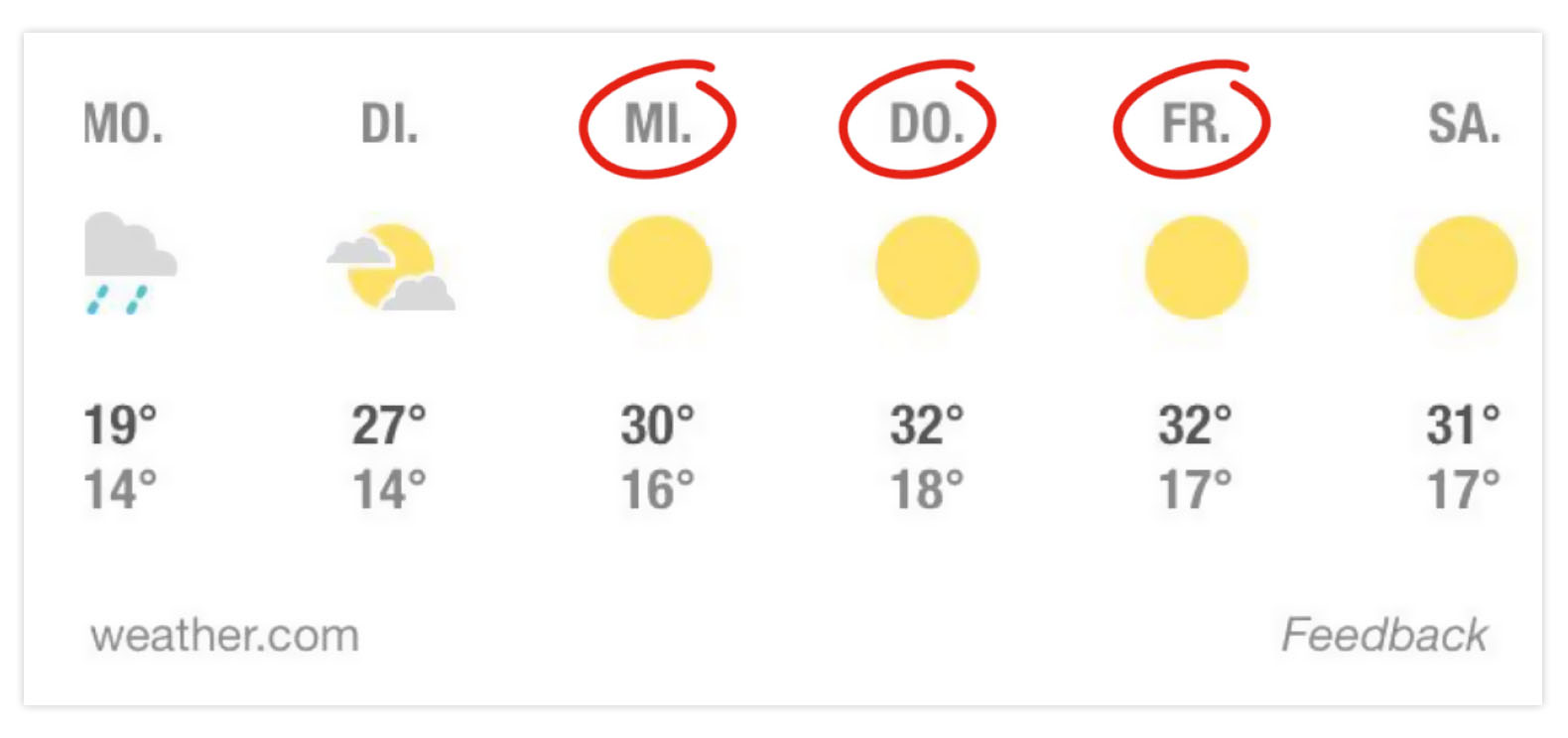 3) Postproduction
At first, I sorted the clips in Final Cut Pro X in keyword collections by play level to keep an overview.
As the interview is the guiding element which determines the length, I began with rating the best interview parts, dragging them in magnetic timeline and cutting the sentences together.
I found a dynamic, motivating, royalty free song.
I rearranged the song so that the number and dramaturgy of sections match the film structure (number of play levels).
After reviewing 13 hours of material, I rated the training clips as favorite or rejected, cut them to the music and decided on the best mix of players, drills, emotions and action.
The last step was the color grading and the presentation!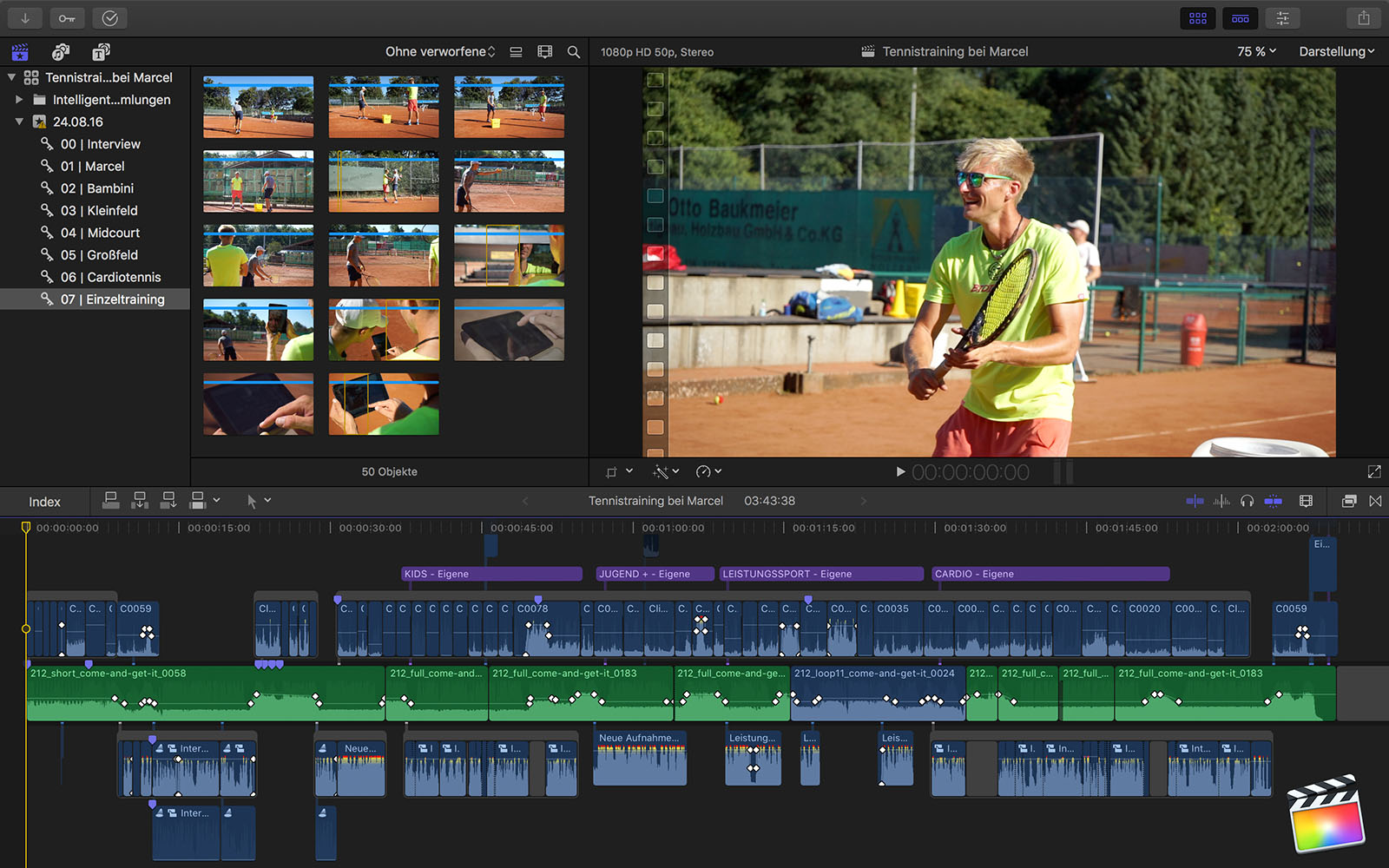 Enjoy the movie!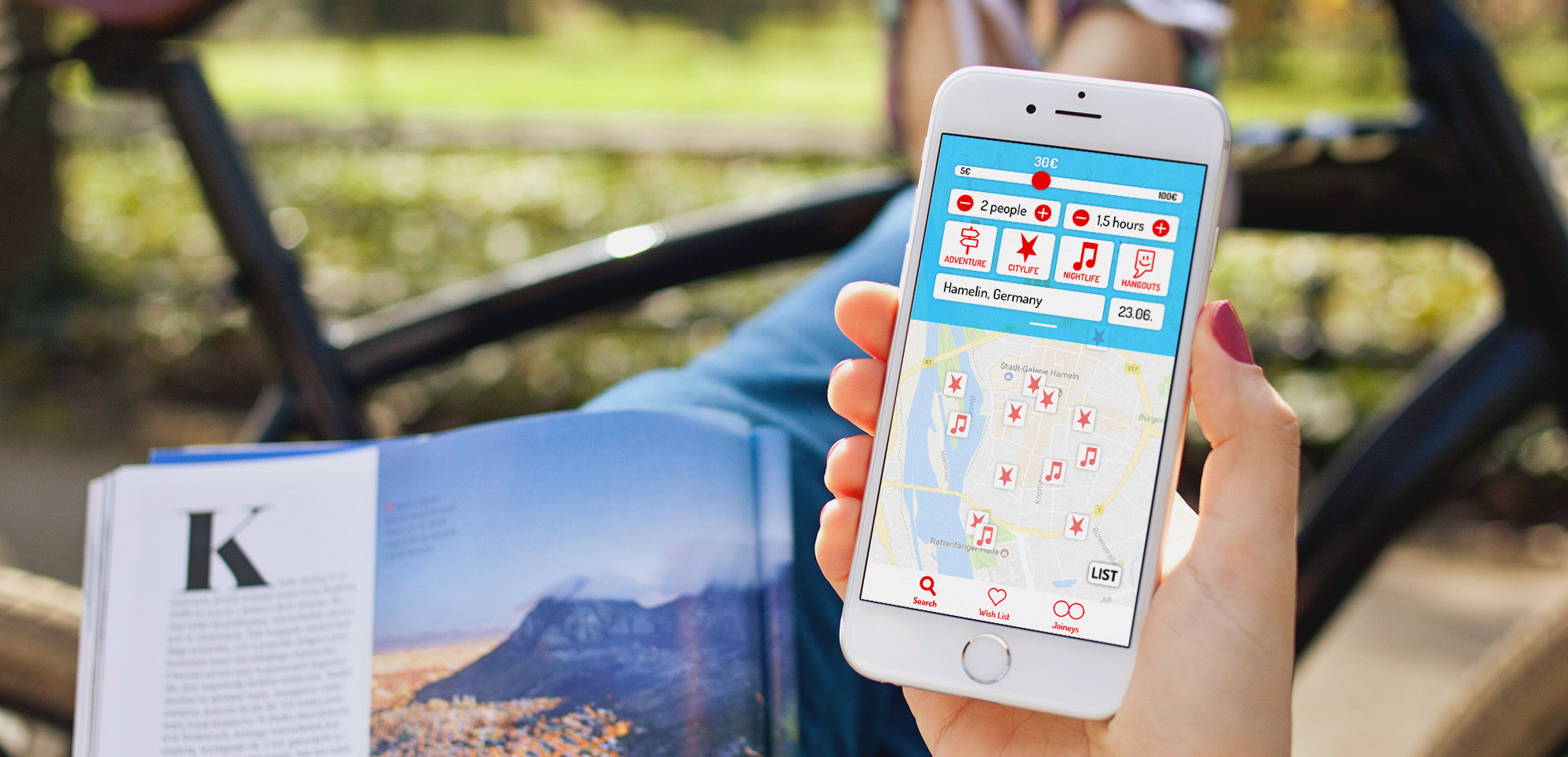 UX DESIGN / START-UP CONCEPT
"Join" is an online-marketplace for travel experiences organized by locals. This was a two week sprint.
1) Start-Up Concept
PROBLEM:
While backpacking, I realized that the most impressive experiences are not the touristic attractions and rushing from sight to sight. It's getting to know the locals and actually experiencing their culture – but finding these locals is quite challenging!


SOLUTION:
Develop an app that connects people from all over the world digitally and physically by letting locals share their cultural highlights with travelers. This app helps pushing diversity forward, which I think is one of our most important tasks.


LOGO:
I wanted the brand name to be easy and to speak for itself, so I've decided for "join". The logo visualizes the word "join" in a simple way and distances itself from the common traveling symbols: The dot of the i leaves its place to "join" the dot over the j, which represents the traveling process. The missing dot over the i adds some tension to the logo.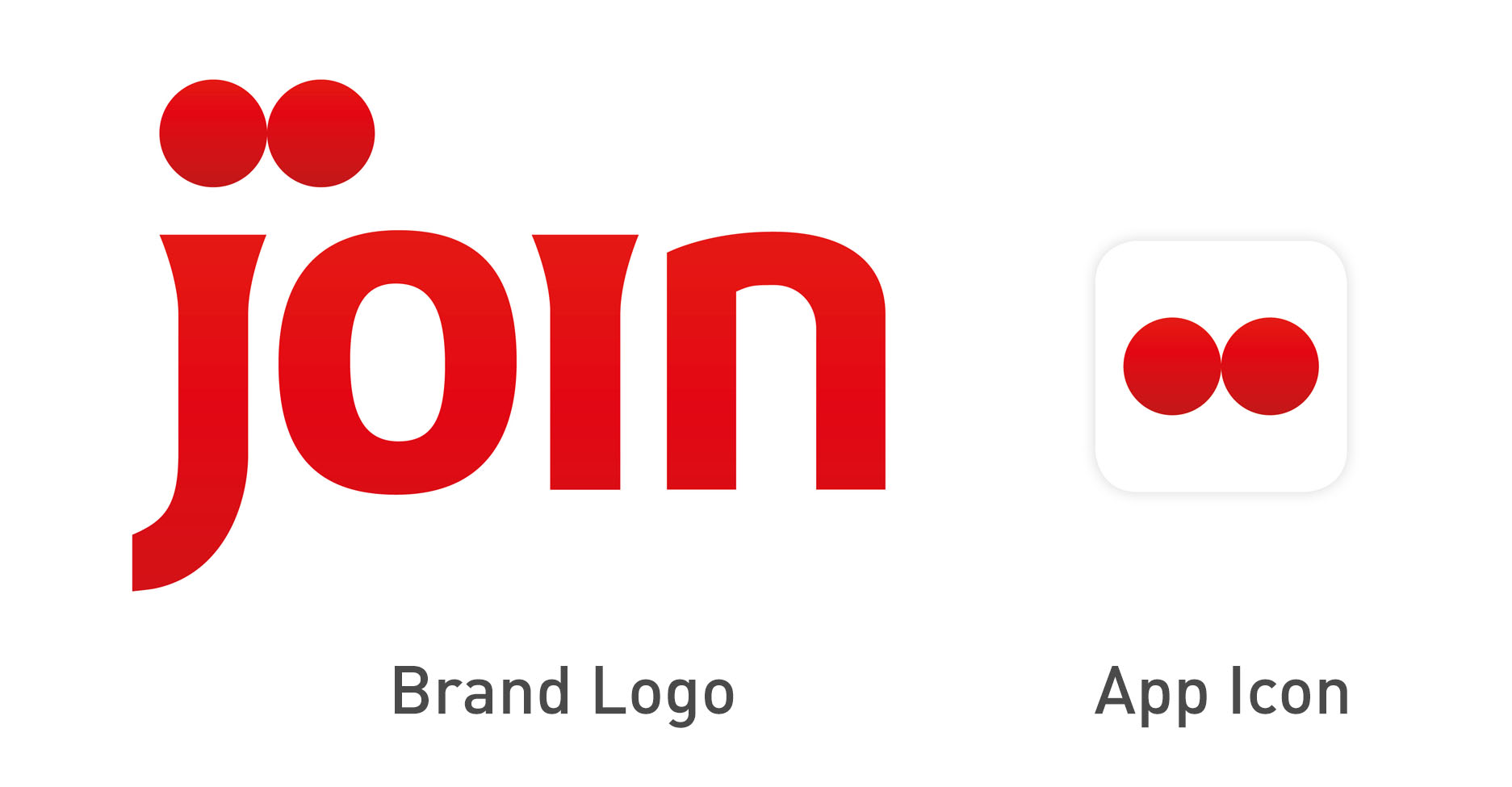 I was aiming for a round sans serif typeface to create a modern flow, but decided against a script font. The spaces between the letters stand for the geographical space between the people in the world, which contrasts with the joining dots.
Join is about new experiences and adventures, so I chose a vibrant and active red. The secondary color is a light and vivid blue, which is associated with the sky and the sea, travel, freedom and harmony and contrasts with the active red.


2) Information Architecture and Interaction Design
Two User Interfaces: Local and Traveler
People who use Join are either locals who offer experiences, travelers looking for experiences, or both. The offering and searching workflows are different and not done at the same time, so there will be two User Interfaces/Modes. The categories of the traveler user interface below represent the workflow of planning a journey in three simple steps.


Traveler UI Wireframes:


3) Visual Design
Icons
The icons are designed to match the font "Dosis". I analysed the cap and x-height, the median and the letter widths to create a grid for the icons. As the letters are rounded, the icons are rounded, too.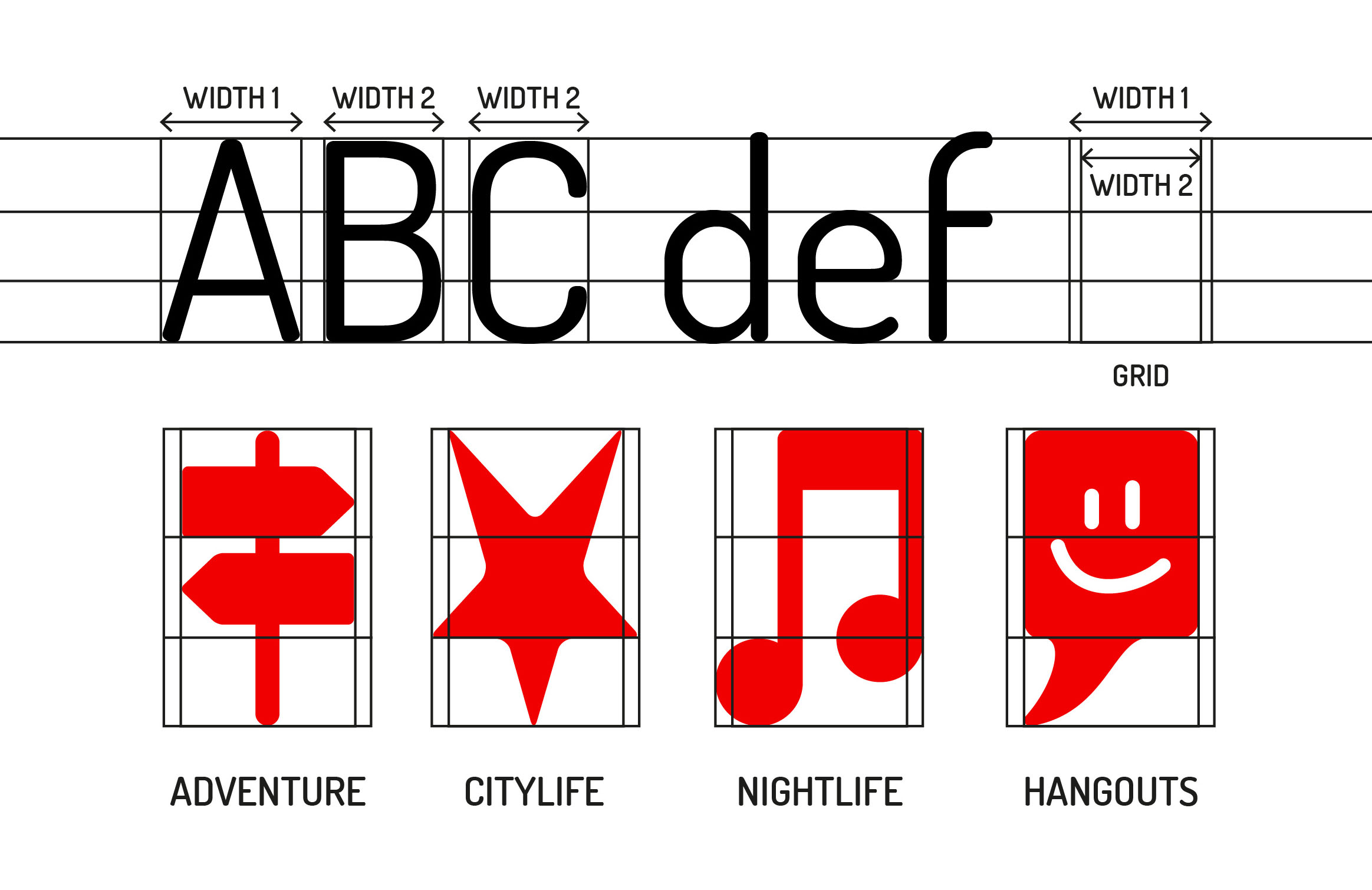 Category #1: Search
If you want to travel to my home town Hamelin in Germany, just start the app and type in the destination, date and the kind of activity you are interested in.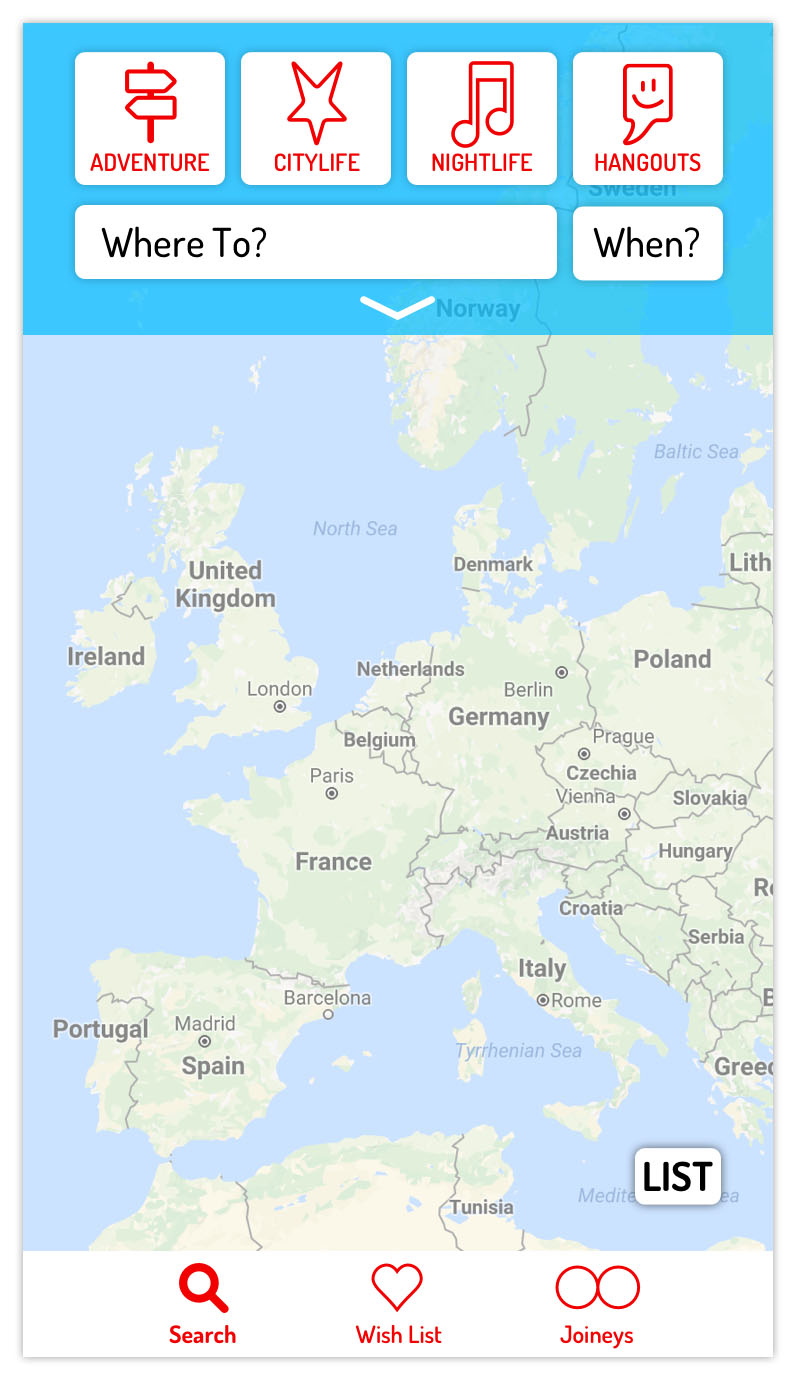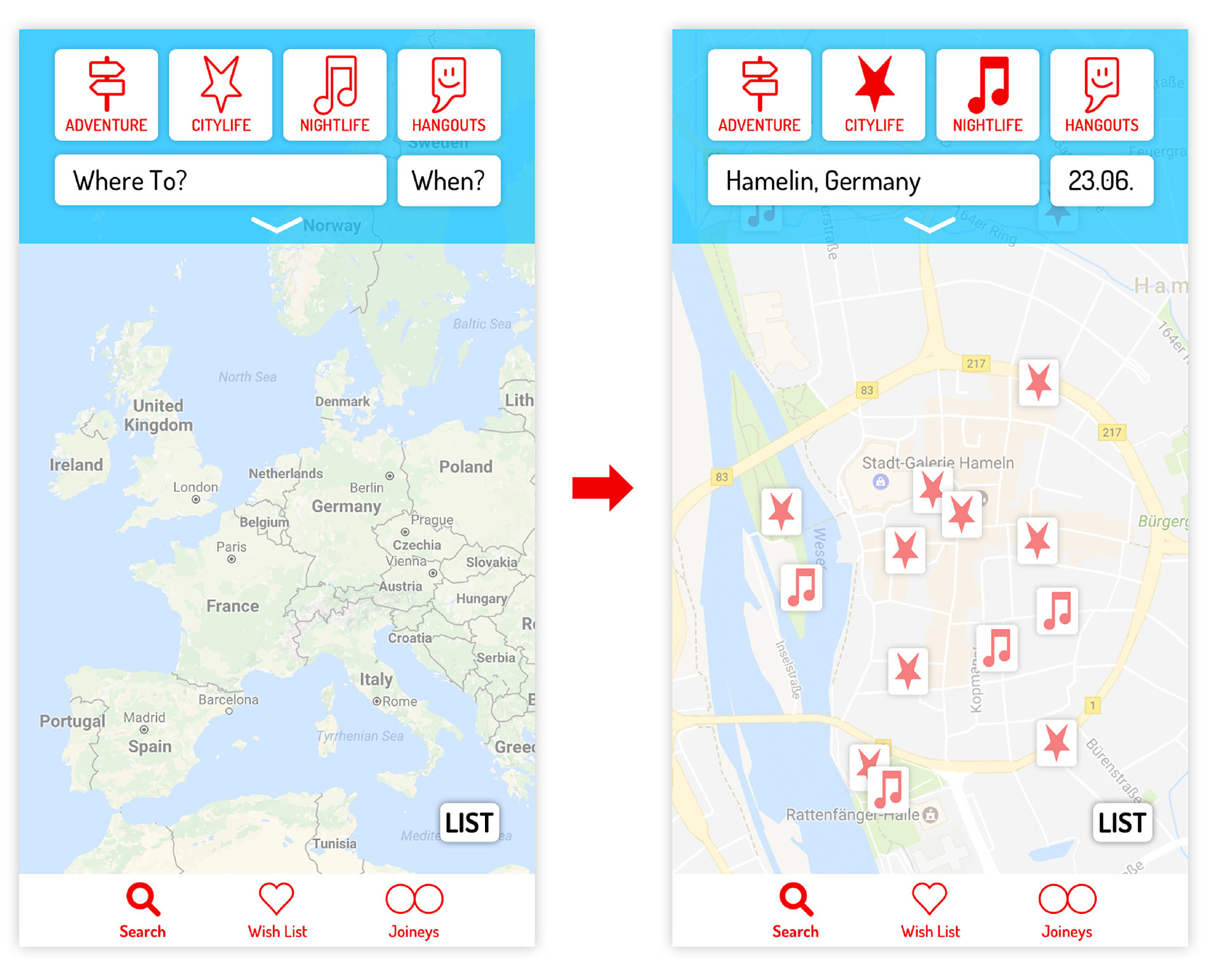 If you pull down the search menu, you can additionally enter your budget, the number of people in your group and your timeframe. Pull up the menu to see the results on a map!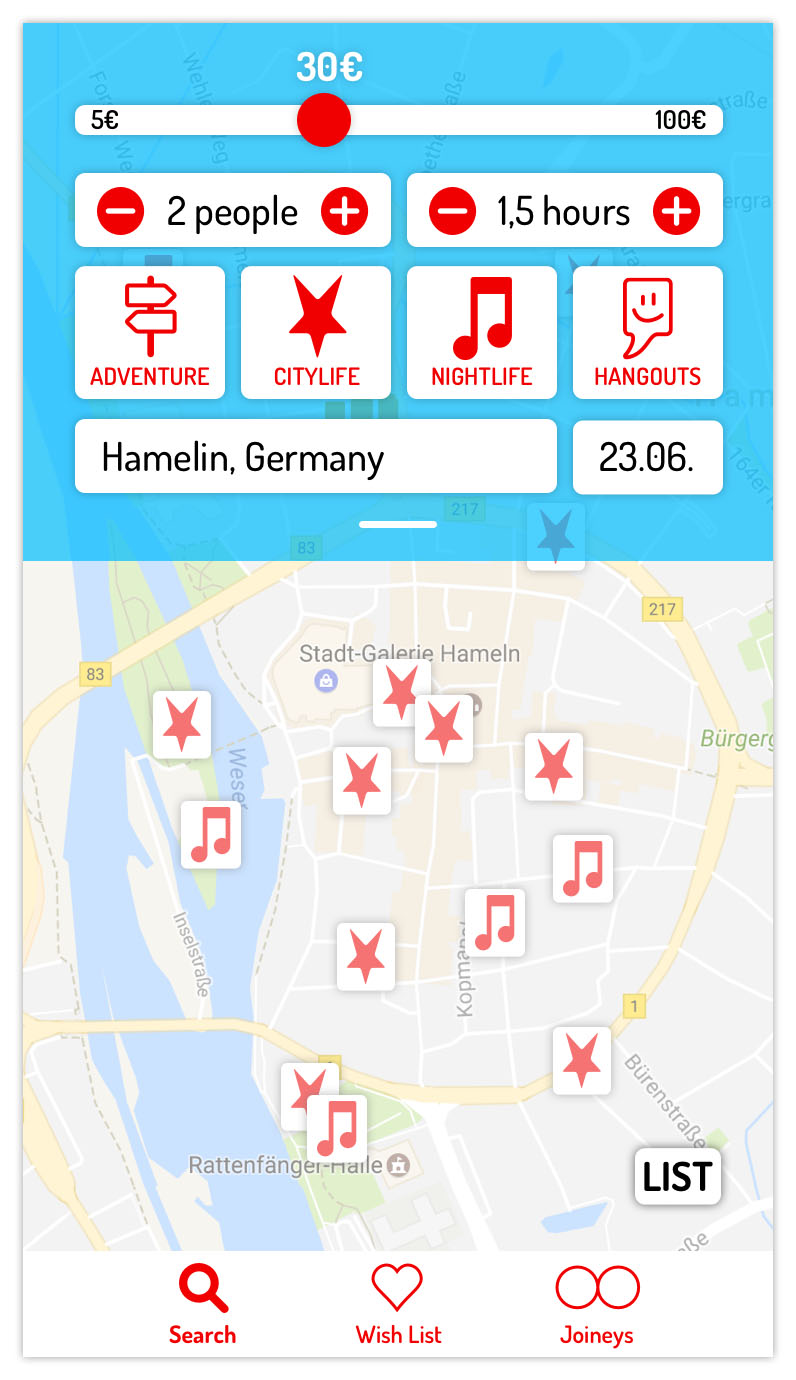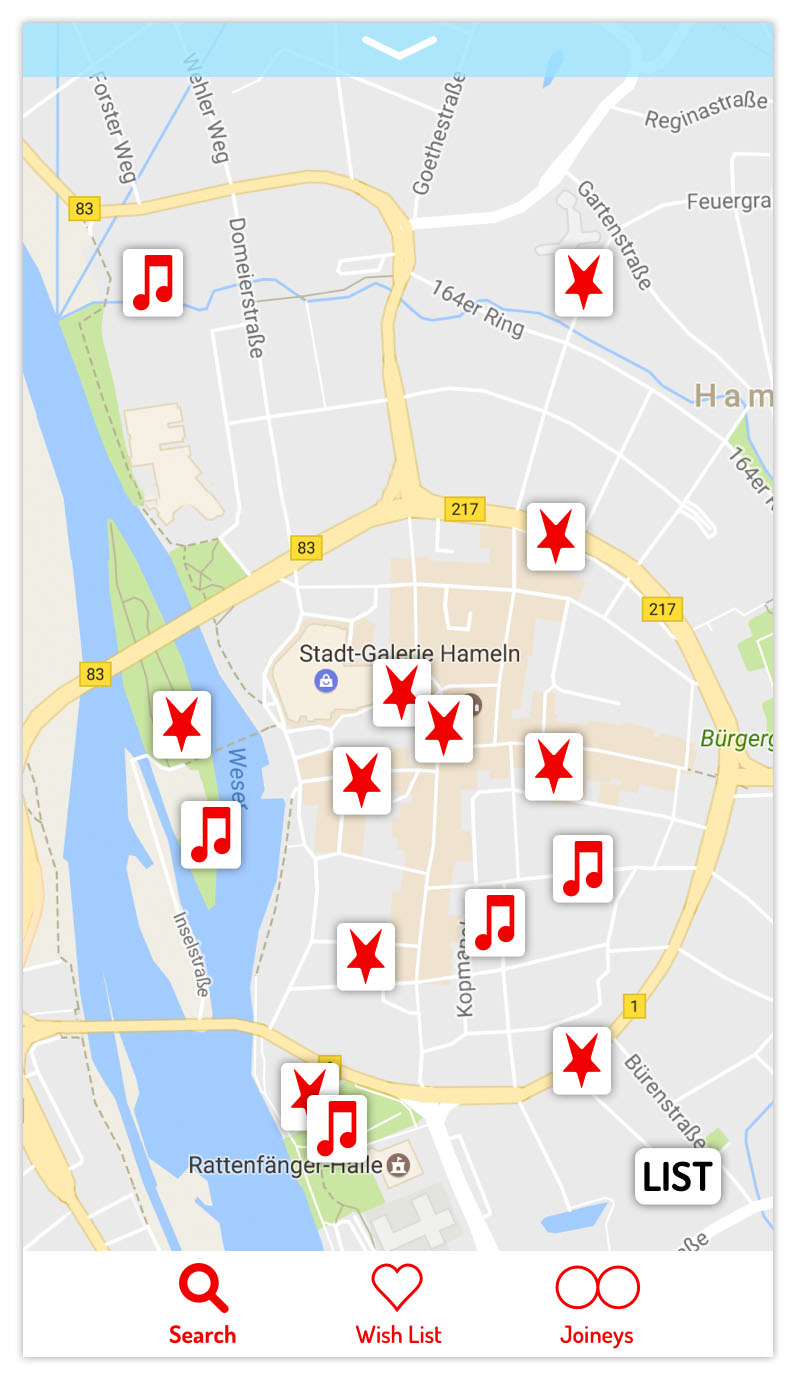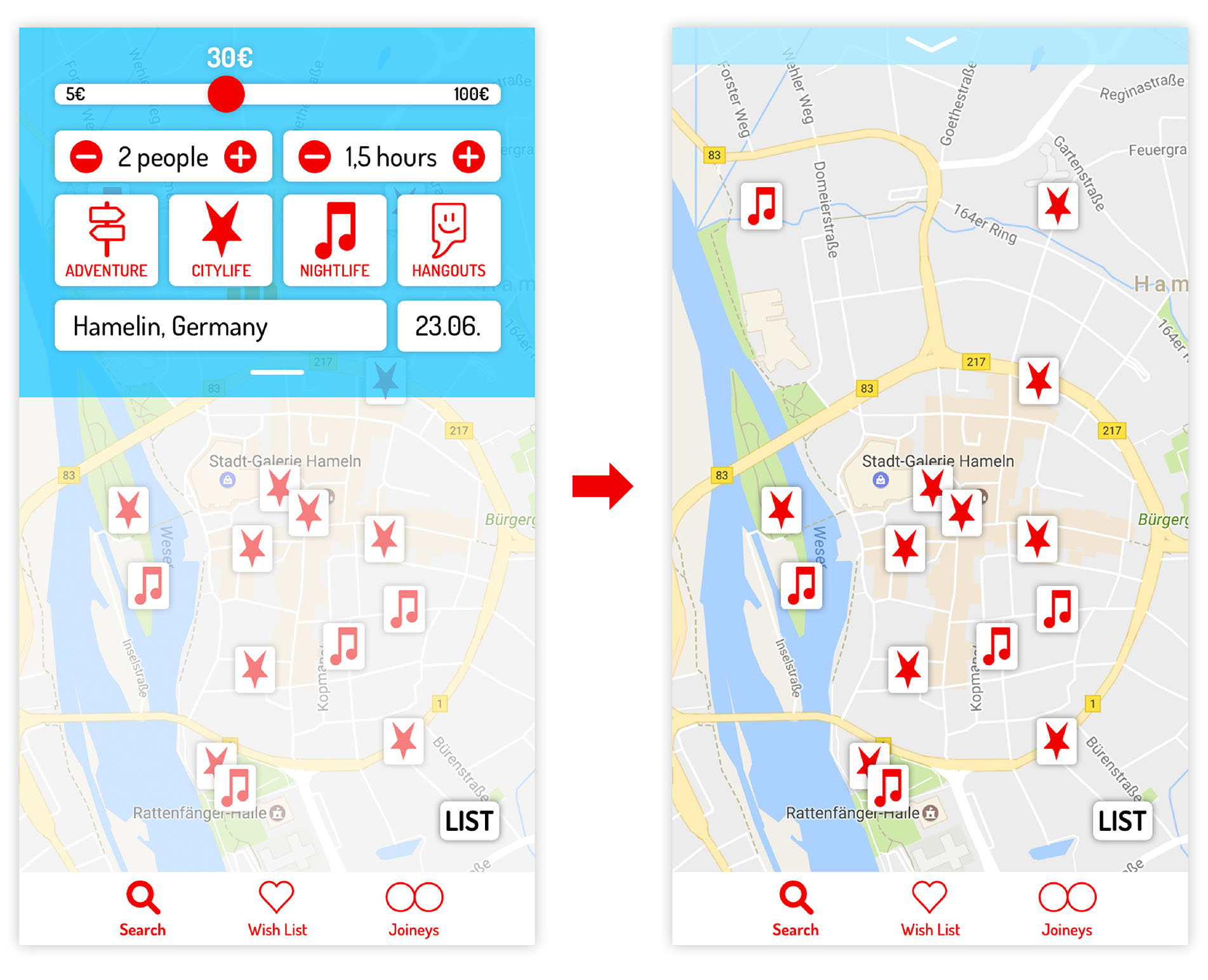 Tap on an activity to see its name and path. You will find a tour description with images and ratings by tapping on "Show Details" – from here, you can also request a tour!


This is the list view – you get here by tapping on the buttom right "List" button in the map view. You have the same pull-down search menu to adjust your query. The image-based list view provides a quick overview of the host person and the activity, whereas the map view is great for navigational searches. Have you found a good activity? Save it by tapping on the heart!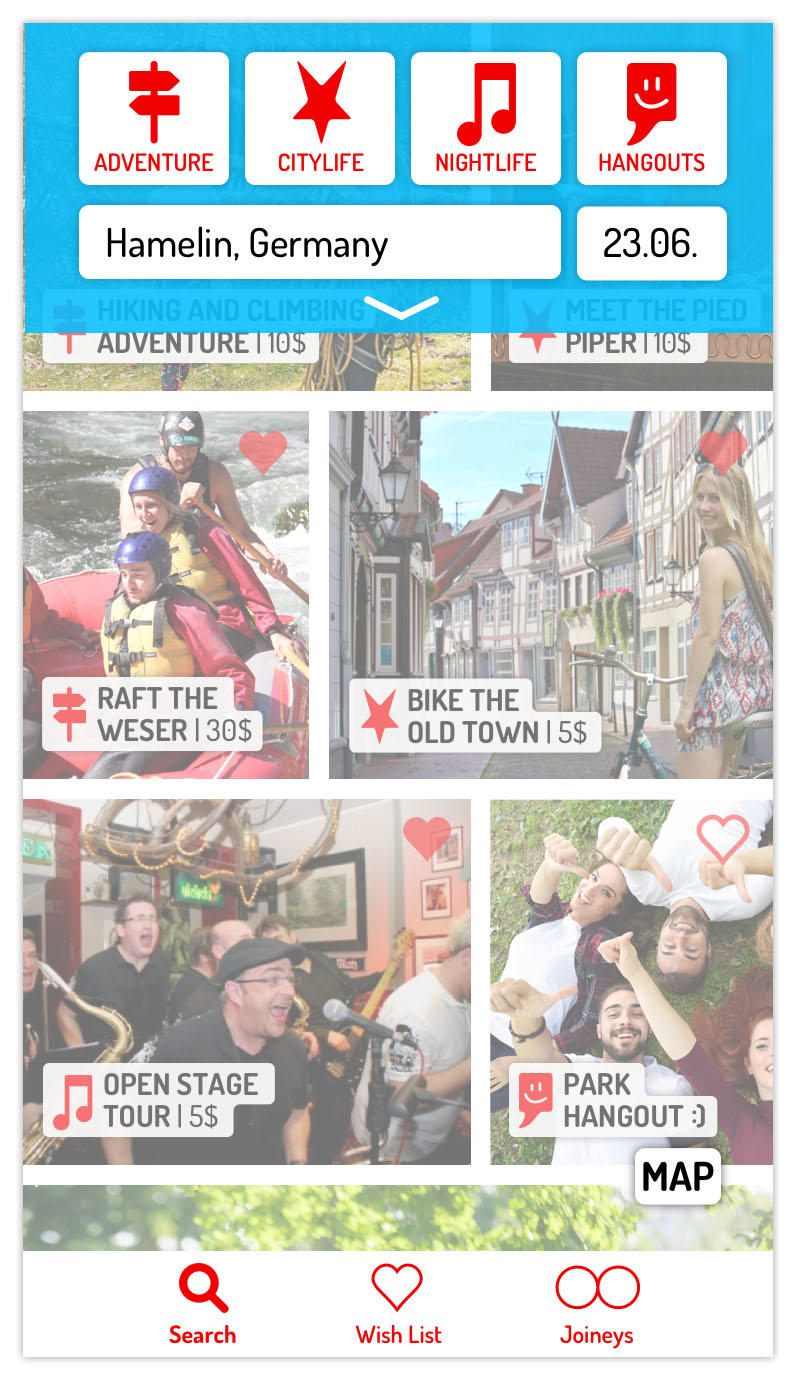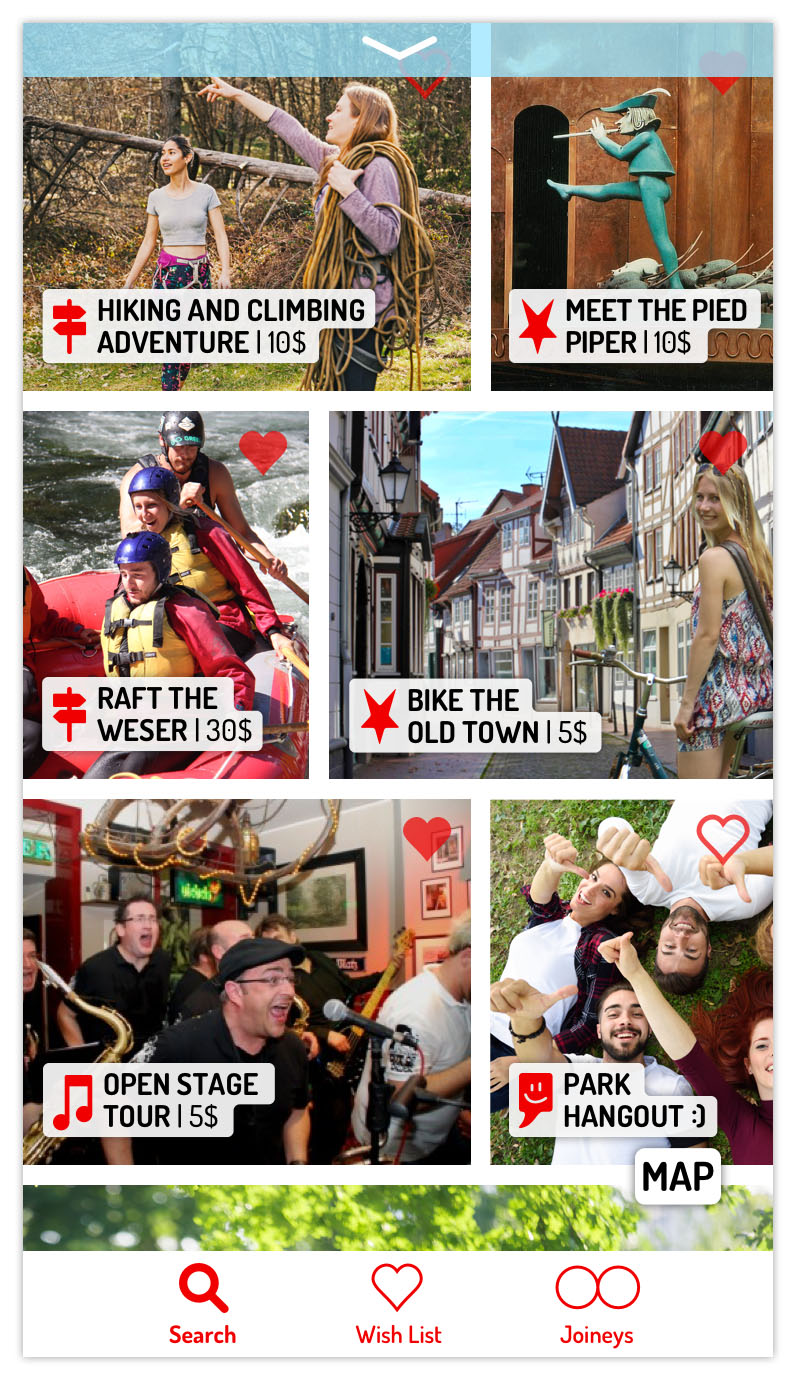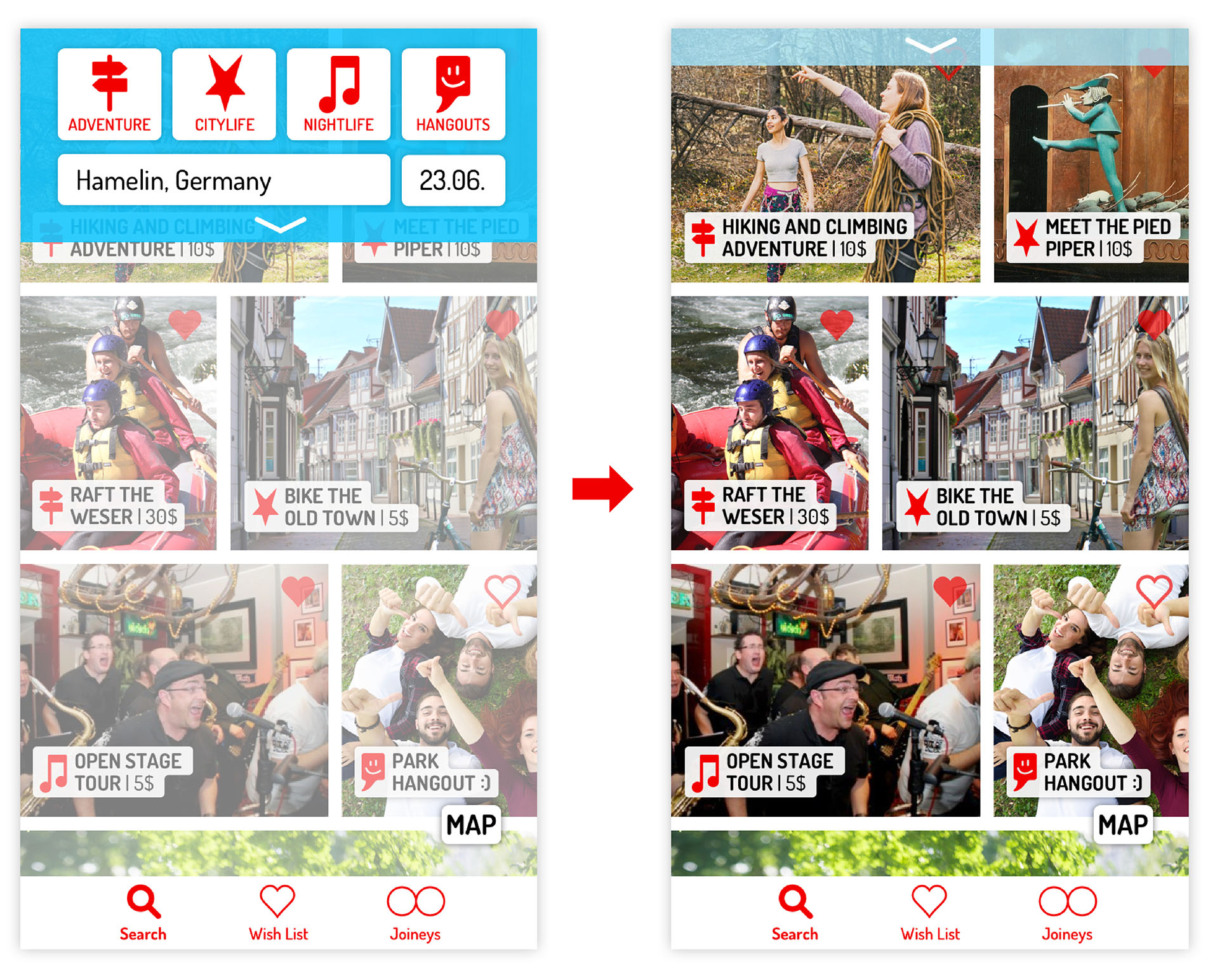 Category #2 and #3: Wish List and Joineys
This is where you find your saved activities and get some suggestions. In the last category, you will get an overview of your activities, see your messages and your profile.